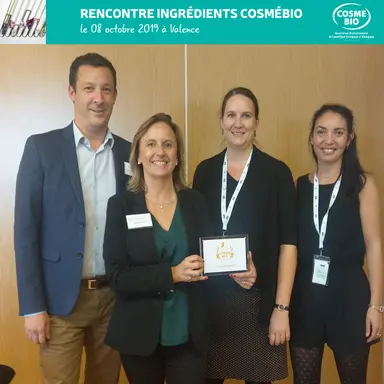 During its first "Ingredients Meeting" devoted to raw materials that can be used in COSMOS-certified formulas, the Cosmébio association also granted, for the first time, its Ingredients Awards. Two new active ingredients have been distinguished for their innovative aspect and the sensory properties they bring to natural and organic cosmetics.
Created in France in 2002, the Cosmébio association now brings together nearly 400 organic cosmetics brands. This new Ingredients Trophy aims to promote the best certified cosmetic ingredient of the year. After an application phase, the candidates were evaluated on their innovation and ethical approach by the members of the Cosmébio Technical Commission (study of the application file and laboratory tests).
And on October 8, 2019, two Awards were presented.
Ingredient Award
Vitacel CS5 Apple from JRS Rettenmaier
A multifunctional, natural and biodegradable ingredient, this ultra-fine apple powder (5 µ) is a softening, mattifying and wrinkle-filling agent. It has innovative features as an emulsifier in Pickering emulsions (stabilization of emulsions from solid particles). Offering a new sensoriality, it opens the door to a new generation of minimalist natural formulas. Co-product of the food industry, this ultra-fine powder is obtained by a minimal processing process and enters the circular economy.
Jury's Coup de Cœur Award
Virgin organic plum oil from Perles de Gascogne
A producer of virgin oils first cold pressed, Perles de Gascogne has already created almond and prune oil, renowned for its cosmetic properties and taste qualities. Its plum oil has been distinguished for its cosmic quality (dry touch and good smell), as well as for the company's ethical commitment (co-product chain, waste recovery…).
LW
© 2019- 2022 CosmeticOBS