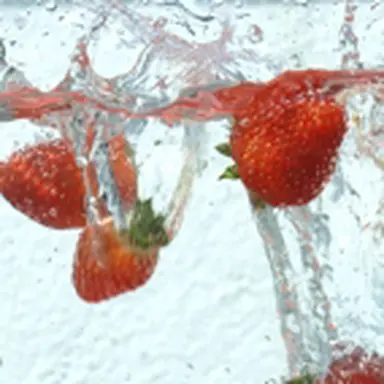 Fruit is healthy. The precept 'eat five portions of fruit and vegetables a day' reminds us of it often enough. But if you fail consuming your daily ration of greenery, why not turn to beauty products based on fruit waters? They are also good for your skin, even if you cannot eat them. In any case, the cosmetics industry increasingly uses them in its formulas.
Refreshing and slightly acid, fruit waters are spreading to cosmetics, in particular face mists.
L'eau de raisin - Caudalie

Product: Caudalie, a French pioneer in vinotherapy, has developed a soothing mist for the face based on grape water. Only a bit of red grape juice is added to the formula, and that is it. A 100% fruity cosmetic product – nothing better to add freshness to your beauty routine.
Price: there are two sizes: the first costs €6.70 for 75ml, the other €11 for a capacity of 200ml.
Where can I find it? Caudalie is available through your usual distribution networks and from parapharmacies. The brand also has its own stores and e-shop.
Moisturizing Facial Mist Serum Danse de la pluie - Pulpe de Vie

Product: the latest creation by organic brand Pulpe de Vie is the Facial Mist Serum Danse de la pluie. In addition to quenching your skin's thirst, this product can fix makeup and refresh your face during the day – perfect for the fast-approaching summer season. Organic fig and blackcurrant waters are used in this formula for their soothing, toning, and antioxidant virtues.
Price: another mini-price for this fully vegan cosmetic product. This spray is available for €8 for a 120ml bottle.
Where can I find it? The mist is available in more than 500 supermarkets and on the brand's online store .
Mystérieux Repulpant - Garancia

Product: Garancia has developed an anti-aging fluid which acts both on expression lines and wrinkles due to age, but also on bags and dark circles. The lemon extract is used in the formula for its properties on lymphatic circulation.
Price: to purchase this cream, you will need to pay €58.50 for a 30ml pump-bottle.
Where can I find it? Garancia is distributed in parapharmacies and on the brand's online store .
Happy Hippy - Lush

Product: Lush, a British handmade cosmetics brand, offers a shower gel with citrus fruit notes for a boosting effect as soon as you wake up. Grapefruit water has also found itself a place in the list of ingredients for its refreshing action.
Price: Happy Hippy is available in three sizes. The basic price is €13.95 for a 250ml bottle.
Where can I find it? Lush only sells their products in their stores and on their e-shop .
Eau de Génie - Indemne

Product: Here is a product that really corresponds to its name, because it has so many different actions on the skin. It is purifying, toning, pore-tightening, and it fixes makeup and brightens the complexion. As regards the formula, Indemne has banked on various fruit waters: lemon to purify the epidermis, grapefruit to tone it up, apricot to hydrate the skin, and tomato to enhance cell regeneration.
Price: this cocktail full of vitamins is available for €18.50 for a 135ml capacity.
Where can I find it? It is sold in a few organic stores and e-shops. L'Eau de Génie is also available on the brand's online store .
Masque Détox Vitamine - Nuxe

Product: This face mask which promises to detoxify and clarify the skin is adapted to all skin types. In this organic cosmetic product, you will find orange water to boost your complexion's radiance.
Price: the 50ml jar is sold for €18.
Where can I find it? Nuxe is distributed in parapharmacies. The brand also has its own retail space online .
In the plate or in a cream, there is no doubt fruit is your skin-beautifying ally. It enriches formulas with its natural virtues and makes cosmetics delightfully sweet.
© CosmeticOBS-L'Observatoire des Cosmétiques
© 2017- 2022 CosmeticOBS