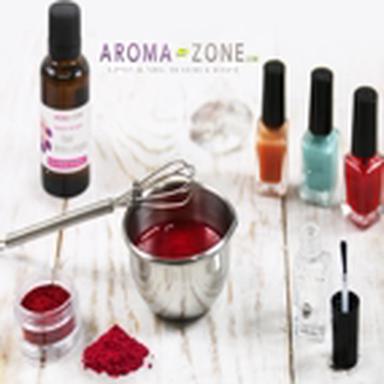 Aroma-Zone, the DIY cosmetics big boss, will release their first organic and vegan nail varnish range in January 2017. Nothing new here: many brands have already developed products whose formulation is claimed to be more than 80% natural. However, marketing a DIY kit for nail varnish, that is new. And CosmeticOBS tested it: so, success or total failure? Here are the results of our crash test.
Promises
With this nail varnish line and, more precisely, this DIY kit, Aroma-Zone claims they have developed an organic and vegan product.
If you have a glance at the composition, you will realize that, indeed, the varnish base is '6 free' (formulation free from toluene, dibutyl phthalate, formaldehyde, synthetic camphor, xylene, and rosin resin), and claimed to be 85% natural. When it was showcased to the press, it was explained the nail varnish was based on solvents derived from plants and obtained with products like potato and manioc.
Right, but at the end of the day, the famous potato has undergone so many chemical transformations that there is nothing left of it (or a far memory…). The base is natural, but definitely not the finished product. So, do not let them fool you: in the end, the list of ingredients in this nail varnish is exactly the same as that of a conventional one.
Now, if you have a closer look at the INCI list, you will notice the presence of benzophenone, a UV-filter suspected of being an endocrine disruptor… Well, it does not sound that good, does it?
INCI list of ingredients of the base
Butyl acetate, Ethyl acetate, Nitrocellulose, Isosorbide dicaprylate/caprate, Adipic acid/Neopentyl glycol/Trimellitic anhydride copolymer, Alcohol, Stearalkonium bentonite, Styrene/Acrylates copolymer, Silica, Benzophenone-1, Diacetone alcohol, Trymethylpentanediyl dibenzoate, Phosphoric acid, Alumina.

Does it last as long as professional nail varnish ?
Making one's own nail varnish, knowing what it contains, and, in addition, getting the same result as with traditional nail varnish: now, that is a tempting promise! At the press presentation, the tone was set: Aroma-Zone claims that DIY nail varnish lasts as long as its counterparts available everywhere, shines just as much, and can be stored just as long – one to two years.
Is the price attractive ?
Aroma-Zone had another claim to boast about: 'Less than two euros to make nail varnish with the recipes prepared for you by Aroma-Zone.' Not bad for long-lasting professional-like nail varnish, don't you think?
However, if you give it a second look, to do your own thing, you do need to be equipped. And of course, Aroma-Zone sells all additional products on their website. So, you will need:
• A nail varnish base, €2.90 for 30ml
• One or several plant-derived or mineral pigments, €1.90 to €2.90
• A stainless steel bowl to prepare the mixture, €2.70
• A whisk to mix the pigments and the base, €0.80
• A pipette to transfer the mixture into an appropriate bottle, €0.80 for 10 of them (this product is not sold individually)
• A varnish bottle with its applicator brush, €0.80
All in all, that makes no less than €9.90.
Of course, the bowl and the whisk can be reused, and the base is enough to make up to six bottles of nail varnish. But still, considering you might not get the result you expect, for a first try, it is costly.
Preparation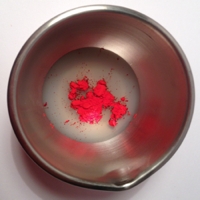 'Less than five minutes is enough to get your nail varnish ready to be applied. Anyone can do it,' Aroma-Zone promises.
This time, the promise is kept. You do not need to be a renowned formulator or chemist to make your own nail varnish. Just place the bowl on a scale, pour 6 grams of varnish base, and add 0.6 gram of pigments. Mix them, and you are done. In no time, pigments are perfectly dispersed in the base, the mixture is fluid and homogeneous, and the colour turns bright. As far as this criterion is concerned, everything is fine. The last task is to transfer the whole preparation into the bottle and apply the nail varnish.
Application
Just like for a traditional manicure, before applying the nail varnish, do not forget to apply a base. Here, the pure Aroma-Zone varnish base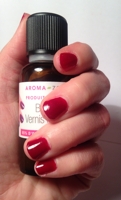 can be used as a first coat. Then, you can apply the colour.
You will need at least two layers to get a really opaque result. The fact that it does not take too long to dry is a good point for the brand.
Ultimately, apply the pure varnish base again, like a top coat, for a shiny finish.
It is easy to apply the product, and the nail varnish promise is kept: it smells exactly the same as your usual nail varnish.
Result
After one day
After less than 12 hours – including no less than an eight-hour night's sleep – it has almost lost its shiny effect.
And there are already a few tears at the top of certain nails.
After two days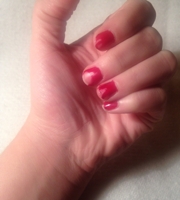 The morning shower got the better of the left middle finger. The nail varnish is chipping on most fingers. As for the survivors, the second layer is obviously fading.
It is (already) time to remove it.
So? The result of our test on the first personalizable nail varnish kit is not very convincing: the rendering is not satisfactory, it does not last as long as expected… and the formula is not really natural.
Even if we can welcome the will to help consumers personalize their products as they please (and jump on the customization and DIY bandwagon, as these trends are increasingly present on the market), the final result does not quite meet expectations.
© CosmeticOBS-L'Observatoire des Cosmétiques
© 2016- 2021 CosmeticOBS