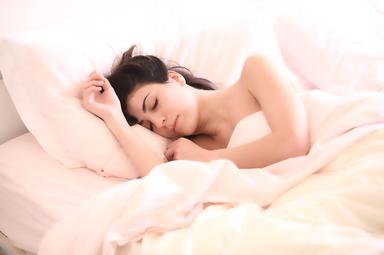 Of course, night is supposed to be the moment when we sleep, but it is also ideal to take care of your skin, and the cosmetics industry has understood that perfectly well. New textures, new sizes… brands vie with inventiveness by offering targeted creams to apply at night.
If you want to have pretty skin texture, you need a healthy lifestyle and much hydration.
For many consumers, the use of a day cream is firmly fixed in the morning routine. What about at night? Does the skin really need a cream before going to bed? To Gérard Redziniak, it obviously does, and the approach should be different.
'During the day, cells fight against the damage caused by the exposome, like pollution, UV rays, or the light. They arm themselves against this environment with molecular shields (anti-free radical, anti-inflammatory molecules…). At night, it is time for some repair: "cell machines" clean and rebuild the molecular damage done during the day. We think our cells are resting, but it is quite the contrary. They work to restore the skin's condition and maintain the homeostasis. The more exposed you are during the day, the more you need to help your cells repair themselves at night. Your routine should be adapted to that,' he explains.
Other phenomena occur in the skin at night, like water loss, or the secretion of an excess of sebum (which intensifies the oily phase of the hydrolipidic film and forms an occlusion that favours the development of imperfections).
Invincible night cream
The canonical night cream is ranked first, whether in a jar or a tube: it should be applied at least half an hour before going to bed.
Hardly anyone used to buy it at first, because of its too rich texture. It is now making a comeback, adorned with lighter textures.
The latest is the Magnifica night cream by Sanoflore (€37.90) intended for combination to oily skins. The brand has banked on a balm-to-gel texture that leaves the skin velvety when it is applied and in the morning.
The sleeping mask
When it comes to innovation, Koreans are never far. We owe them the invention of the sleeping mask, already about ten years ago. Since then, Europeans have largely taken over the concept.
Contrary to standard night creams, this product should be applied as a relatively thick layer on the face, and residues are to be rinsed off in the morning.
Generally speaking, the texture is very pleasant, thick, fresh, and leaves the skin comfortable as hell.
The most sceptical of us when it comes to applying a mask all night will be reassured: a sleeping mask should be used twice to three times a week.
Since K-Beauty is all the rage, it is not difficult to find typically Korean products in France, in particular Pumpkin Sleeping Pack by Too Cool for School (€17.90 for 100 ml, available in Sephora stores), which makes the skin smooth and plump.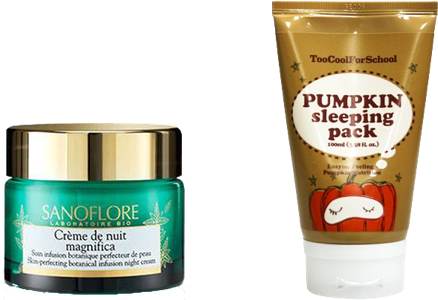 Night peeling
The latest in the cosmetics world is the night peeling.
Peeling is basically a chemical process which helps remove dead cells and enhance cell renewal to revive the skin's radiance and conceal imperfections.
The 2018 version is presented in the liquid form, between essence and oil. It is to be applied with a cotton pad and not be rinsed off. Acid levels are relatively low to prevent too abrasive an action and preserve the skin's integrity.
Beware: night peelings do not replace the creams. They are a gesture to add to the night routine.
They are available in all price ranges. Vichy developed the Idéalia peeling for €26.70 (for 100 ml), but the wealthier among you might turn to the latest Lancôme creation: Absolue Precious Cells Gouttes De Rose, €97.50 for 15 ml: indulge in the luxury of getting rid of your moisturizer!
Connected mask
Science keeps making progress, especially in the field of cosmetics.
In April 2018, Foréo launched UFO (Ur Future Obsession), a box connected to an application to better treat your skin.
The device is to be used with sheet masks that are all associated with a pre-programmed skincare routine mixing light and pulsation.
Of course, Foréo also thought about a night mask, Call It At Night, to contribute to rehydration and cell regeneration.
This technological jewel is quite costly though: €279.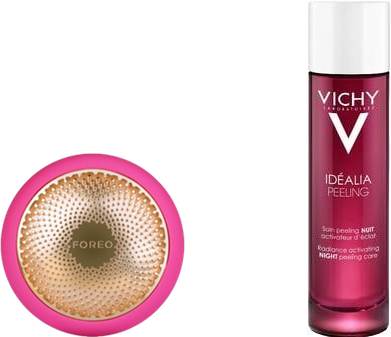 Just like everyone, the skin takes advantage of the night to recharge its batteries, so that you look flawless in the morning.
Make sure you choose products adapted to your skin condition.
So, do not be lazy and take care of your skin before you go to bed, even if the arms of Morpheus are calling you!
JS
© 2018- 2021 CosmeticOBS