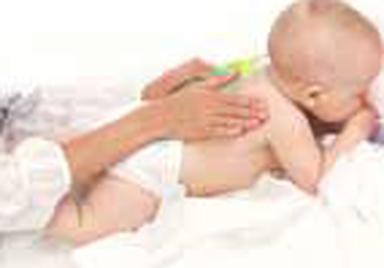 Presented during the 9th Scientific and Technical Exchange Day organized by Cosmed (the cosmetics industry association), on October 9 in Montpellier, a meeting of the Scientific and Technical Advisory Board of the Montpellier cosmetics industry was held;tude de L'Institut des Mamans, the specialist in studies and advice on pregnant women, mothers and children, was interested in the perception of babies' skin by their mothers. Most instructive results… sign of the concern of young mothers or revealing more and more"problem" skins?

L' Institut des Mamans conducted this survey from 3 to 7 July 2009 among a sample of 500 mothers of children aged 0 to 24 months, representative of the national population of mothers of children of these ages. Data collection was carried out via the Internet using a self-administered questionnaire.
The first aim of this study was to evaluate mothers' perception of their children's skin, which obviously determines the choice of cosmetic products they use to care for them.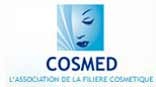 This exclusive survey was presented during the 9th Scientific and Technical Exchange Day organized by Cosmed on the theme of infant and young child cosmetology. The Observatoire des Cosmétiques gives you some points that have particularly caught your attention.
Does your child have normal skin?
Edifying! Only 30% of mothers think their child has normal skin. Note that this percentage is slightly higher than in the countryside, but lower near large cities! Is it only a perception linked to the appreciation of its environment, or does the polluted air of the cities influence the state of the skin of our children?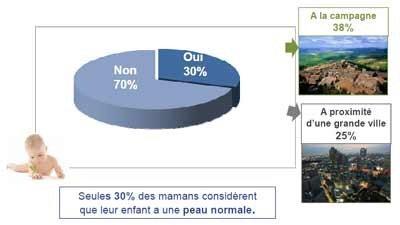 How would you describe your youngest child's skin type?
There is no doubt that a baby's skin is sensitive and delicate: it is even one of its most commonly accepted characteristics. And this fact is identified by 53% of mothers, with 30% believing that all this is"normal". A figure which pleads in favour of the good appreciation of the skin of the babies by their mothers…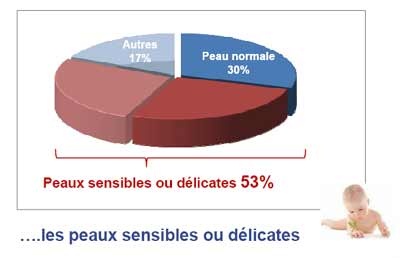 And that makes the next figure even more telling, because 87% of mothers surveyed also believe that their child has skin problems!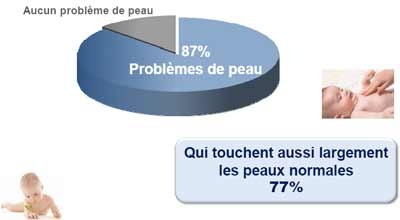 What skin problems/diseases has your child already had?
Inevitably, the"classic" problems of the first times of life are cited first: diaper rash and milk scabs are the most frequent. But we also note a high percentage of mothers having declared that their child had suffered from eczema (23%)… which of course, can only encourage to recommend once again for babies and young children the use of cosmetics really very soft, non-irritating, and especially non-sensitizing and non-allergenic…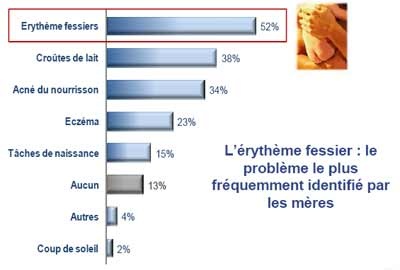 Where do you buy your child's hygiene and care products?
In view of the above results, we will not be surprised by the following ones.
To take care of their young children's skin, mothers look for safety and first go to pharmacies (which we hope, by the way, that all really provide this desired safety…). Second place of purchase: hypermarkets, which attract more for the price criterion of their products, and 33% of mothers navigate between these two distribution channels, against 27% who only go to pharmacies and parapharmacies.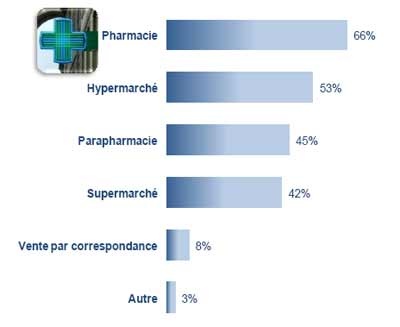 Have you ever bought organic hygiene and care products for your youngest child?
Mothers' awareness of their baby's skin also benefits organic. 48% tested this solution at least once for their child, but only 11% made it a habit. And it is often the families with the best incomes (the CSP +) who make this choice…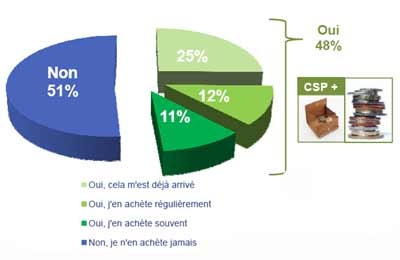 The Institut des Mamans website :
© 2010- 2020 CosmeticOBS