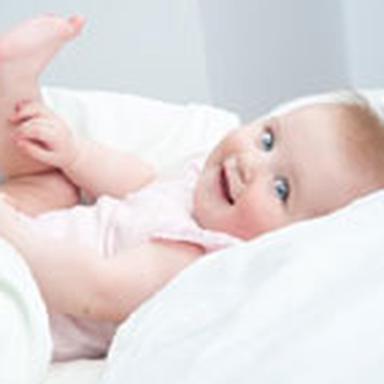 Baby ranges are constantly increasing their references. If the offer is large, only a few essentials are enough to wash her baby. But for the young mother, what difference is there in the formulation and use of a cleansing water, a cleansing or moisturizing milk and a liniment? Review of these 4 basics;
Cleaning water, for a light and refreshing cleansing
Or lotion, washing water or micellar solution… it is used to clean the face (after a bottle or a meal) and the baby's body gently. It also helps to eliminate impurities from the buttocks during light changes. Used without rinsing when its formulation does not contain any undesirable ingredients (and in particular sensitizer) at any time of the day, it cleanses and refreshes the epidermis without altering the hydrolipidic film. Although its composition contains protective active ingredients, it does not have the moisturizing and soothing functions of a milk or balm.Formulated on the basis of an aqueous phase (water, thermal water, floral water, aloe vera), it is a liquid galenic containing cleaning and moisturizing agents (glycerin) and, unfortunately too often, perfume, never the most recommended for a baby. Sometimes, and if it is only a question of perfecting a toilet or refreshing baby, a thermal water can be much preferable.
Cleansing milk or cleansing milk, for a complete cleansing
As its name suggests, it is used to clean baby's skin and its application is often recommended without rinsing. Its use on the body can occasionally replace the bath for the smallest, and is indicated when the skin is irritated. On the face, it is used to cleanse as soon as babies diversify their diet or when they regurgitate. When changing, it is recommended for cleaning the reactive buttocks (reddened). Because it helps to gently remove impurities from the seat, often attacked by wipes whose use is widespread.Its composition uses very gentle washing bases, floral waters (orange blossom, chamomile, rose, lavender), softening plant extracts (cotton, verbena, honey)and vegetable oils (sunflower, jojoba, soya, sweet almond, apricot kernel) that respect baby's hydrolipidic film and also maintain good skin hydration.
Should"no rinsing" be done?
Without ambiguity, the answer of the experts of the Observatory of Cosmetics is:"Yes! despite the recommendations of the labels. With the widespread use of leave-in cleansers, they point out, there has been an increase in skin problems (allergies, irritations). Therefore, mandatory rinsing, preferably with thermal water.
Moisturizing milk, to protect the epidermis
Also called nourishing balm, emulsion or emollient for the body, it is used to ensure a good hydration of the baby's skin, to soothe its reactive epidermis, to restore its hydrolipidic film if it has been attacked by bath water or an exit outside. It is applied to clean skin after bathing or when necessary, unlike a protective cream used before outings and rather on the face or fragile areas exposed to the elements (wind, cold).Its formulation based on emollients and humectants such as glycerol, restructuring active ingredients and fat bodies such as shea butter provides nutrients that help fight against dry skin.
Liniment, ideal for diapers
Without rinsing, the liniment is used as a cleansing milk, by soft touches, with each change of the layers. With a little product deposited on a cotton pad, it cleanses the buttocks and the small folds of the seat, weakened by the acidity of the urine and their maceration in the layers, and prevents redness and diaper rashes. It is not a moisturizer, nor a massage product,
its composition is a mixture of 50% olive oil (softening and protective) and 50% calcium hydroxide solution (commonly called lime water). Sometimes vegetable oils (sunflower, coconut, castor, apricot kernel, sweet almond), soothing and soothing active ingredients (honey, aloe vera, calendula, bisabolol) or protective ingredients (beeswax) are added.Note: this is the only product that the experts at the Observatoire des Cosmétiques recommend not to rinse. Its pH and its composition being of nature to prevent redness and irritations of the seat, it is considered as a true product of care. On the other hand, it is not suitable, but not at all, and whatever some labels say, for removing make-up from the skin of mom's face.
© 2012- 2020 CosmeticOBS