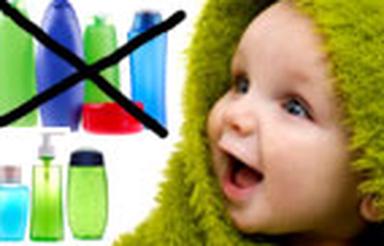 For our babies, we want only the best. Further, as never before, we are ready to compromise with the principle of precaution. One is sure to do his best: nevertheless, choosing a suitable cosmetic product is not that easy. What are the data available to help us decide of its suitability, of its interest, of its safety? An ad flyer (inevitably positive: its duty is to make the consumer buy it more than to give pieces of information!), a list of ingredients … to a large extent beyond understanding, more or less informed opinions by other users … This is quite few to get the clear and believable data that would help in choosing the most suitable product.
A pharmacist or an M.D. may give an advice. It is also helpful to learn how to read labels and to avoid traps they may have. It is useful to understand the list of ingredients … and then knowing full well how to choose. CosmeticOBS-L'Observatoire des Cosmétiques gives you the list of the seven first steps that make it easier to choose.
I - Reason against an impulse buy
It smells strawberry scent (or an odour that reminds you of your childhood), right. Its iridescent colour would be very nice on your baby's skin. The teddy on the label is so cute … why not buy it as a poster? This is the kind of information … that say nothing about the product, even less about its quality and harmlessness. An impulse buy may be acceptable for your make-up (or for after-shave balm!) However, never do that to choose a cosmetic product for your child. Reason –and the formula of the product– shall prevail always. Don't worry, this does not always collide with the pleasure to use it …
II – Stop the preconceived ideas
Well … not necessarily. Some products sold in chemist's shops may contain ingredients that are nowadays suspected to be toxic for our organism. Some organic products contain too much Alcohol or essential oils to be suitable for young children. Some labels display "recommendations", omitting to let us know who made them: the highlighted "dermatologists", are they independent, paid by or even employees of the manufacturer?
Every time, whatever the cosmetic product , whatever the distribution network, better not to buy in total confidence, based on a preconceived idea. Better to form an objective idea by reading the label of the product and its list of ingredients.

Also see
• the "The-Without-mention-in-cosmetics" article
III – The list of ingredients, better than the sales pitch
It is mild, it is written on the label (further, with large capital letters)! It's "With Sweet Almond oil ", "Guaranteed Parabens -free", "rich in soothing active ingredients" …
Mild? Sometimes, the pink colour of the label is far milder than the surfactant used in the shower gel … The Sweet Almond oil may be in tiny quantities in the product, even in smaller quantities than another oil, maybe a mineral oil produced by the petrochemical industry. Parabens -free, nice … until we know what they are replaced by: other preservatives that are more allergenic or as likely to be harmful, no preservative at all … or acceptable and safe substances? How many soothing active ingredients, which ones, along with which other ingredients maybe less soothing , or even irritating ?
True, the sales pitch gives an idea of what the product is intended for; nevertheless, do not anticipate any exhaustive or true pieces of information. In every instance, the list of ingredients (again … and again) gives the relevant information about the true formula.
IV – Symbiosis: no. Products for Baby only
Some labels of creams for babies claim "ideal for Mum"; shower-gels or shampoos labelled as "suitable for the entire family, even for babies" … Be cautious. One may be dubious about taking such a claim at face value. A baby's skin , which is very specific, requires cosmetic products designed for its peculiar needs and thoroughly chosen ingredients. It is either of two things: either the products claiming to be one-size-fits-all are not the most suitable for the fragile and sensitive epidermis of babies, or they do not suit their mothers' skins, even if delicate and fragile, but not in the same way! A toilet bag for everyone, and the balance of the skins will be protected …
V – Less is better (1): how many products?
A baby does not need many cosmetic products to feel happy, clean and smell good: only one gel may be used to wash the body and the hair during the daily bath. Then, a body cream or a massage balm is useful, especially if our baby's skin is dry or irritated. For small washes (hands, for instance) and nappy's changes, a milk lotion is the only recommended item: a cream for the bottom is used only if the bottom is irritated, never for repeated applications. Therefore, for the every-day care, three products only, carefully selected, are enough … a good way to lower the cost and to diminish the risks of sensitizing or irritations, always more important when baby is in contact with numerous substances from his (her) earliest age.
VI – Less is better (2): how many ingredients in each product?
In the same manner, better to choose products whose the list of ingredients is the shortest. Once again, the less different substances the child is in contact with, the lower the risk to be exposed to one which he may be allergic or sensitized to.
One main point is to put aside perfumed or coloured cosmetic products (which show no advantage in terms of efficiency, but vastly increase the risks of allergy), and as general matter, very complex cosmetics, at least during the very first years of the child. Simplicity often translates into: better safe than sorry.
VII – Long live the pump-bottles and opaque packaging!
Pump bottles, as long as they are stable and the pump runs well, are among the most suitable packaging for babies' needs … and their mothers'. Thanks to their practical side, both hands are always available, for instance, to take charge of the baby, instead of holding a bottle or a tube, even for a short time.
For the safety side, they are also a means to lower the quantity of preservatives , which are never the softest cosmetic ingredients. As they lower the effects of the contact between the product and the air, and with light if opaque, keeping the product free of contamination, they protect the product from oxidants or microbes, and lower the need for any chemical substances while guaranteeing its safety.
© 2011- 2020 CosmeticOBS