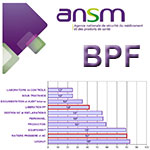 Between 2010 and 2015, an extensive inspection program was carried out at cosmetic manufacturers and manufacturing establishments by the Inspection Branch of theNational Agency for the Safety of Medicines and Health Products, with the aim of verifying the application by operators of the requirements relating to Good Manufacturing Practices (standard NF EN ISO 22716). The ANSM has just published the report, with some recommendations.
Reading time : ~ 5 minutes
This inspection programme included an exploratory phase comprising 70 establishments, initiated before the implementation of Regulation °1223/2009 on cosmetic products, and a GMP inspection campaign, on 16 operators, carried out after the implementation of the Regulation. At the end of this exploratory phase, 32 establishments were considered generally satisfactory according to the GMP standard and 38 establishments were considered to require substantial improvements in order to comply with GMP, including 26 operators who undertook to make progress in improving their practices.
In view of this observation, the ANSM adopted a risk-based approach for the selection of operators for the second phase, which began in 2014, which explains the large number of administrative measures taken following the GMP inspection campaign. The results of this campaign showed particularly numerous deviations and high criticality for 12 of the 16 inspections carried out.
According to the text published by the ANSM, the inspection reports have shown that operators, with the exception of two, must make progress on all the points covered by GMP, and in particular for aspects relating to premises/equipment, raw materials/packaging items, finished products and their release. Consequential areas of progress are therefore expected for most operators.
The ANSM initiated administrative follow-ups resulting in eight injunctions, one formal notice (MED) and two reminders to the law so that ...