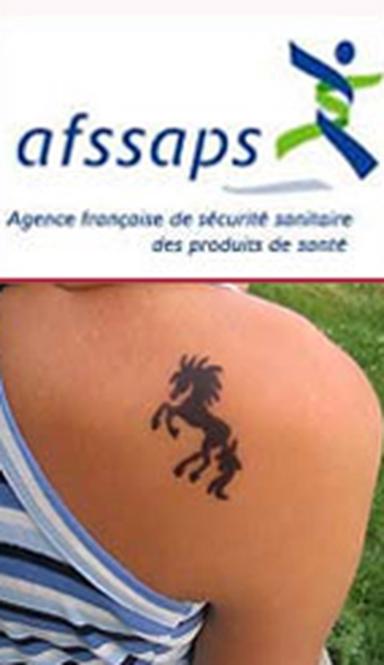 Once again, at the beginning of the summer, Afssaps reiterated its warning statement against carrying out black temporary tattoos containing a henna base. The addition of black dyes to henna, in fact, cause serious undesirable side effects, of which the number reported in 2008 strongly increased.
Ephemeral black tattoos, mainly offered to tourists on beaches, in vacation resorts or in markets have been in vogue these last years. Their great longevity and their black colouring have dethroned traditional henna tattoos whose colour varies from brown to orange.
For five years, dermatologists and allergists have signaled to Afssaps the cases of allergic contact eczema which occurs a few days to a few weeks following application of these tattoos. They can be limited to the tattooed zone or extend to neighbouring zones and even to the entire body. These reactions may be violent and sometimes necessitate urgent medical intervention and even hospitalization. They may also lead to irreversible polysensibilisation, in particular with rubber products, clothing dyes and permanent hair dyes. They may even prevent the practice of certain professions, for example that of a hairdresser.
Taking into account the cases allergic eczema announced, the difficulties of control of the distribution system of the products and the places where black temporary henna tattoos are carried out, Afssaps warns against the risks and strongly discourages the realization of these tattoos.
In 2008, 32 cases eczema were reported. This number had increased strongly (17 cases in 2007) and means that this practice is on-going, but also that the information campaign launched in 2008 has allowed the people who were tattooed to identify the origin of these undesirable effects and report them to a health professional.
The majority of persons confronted with these reactions were females, 17 years old on average. Twelve cases concerned children from 4 to 12 years.
© 2009- 2020 CosmeticOBS