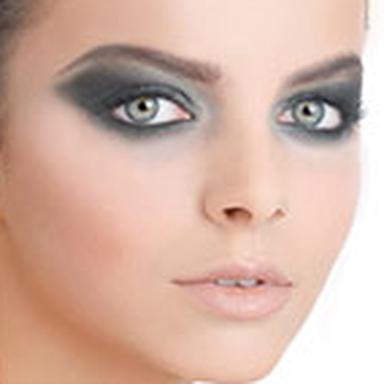 Beautiful eyes attract everybody's attention! Not only do they arouse sympathy and trust, they are also one of - if not the - most important weapon that is utilized when flirting… who can resist sparkling eyes and seductive lashes? The secrets to get a stunningly beautiful look go through eyeliner, mascara, eye shadow, and skincare!
In the blink of an eye
Our eyes are an open book: You can tell by looking whether last night was short or if the last week has been nerve-wracking. Dark stains, reddened eyes, puffiness or bags can quickly make us look tired or even sick. Eye makeup is supposed to be, but without using the proper care, it fails to have the desired effect. As we have very delicate skin around our eyes, that becomes thinner as one gets older, it requires some special care. A care that reduces dark circles, diminishes puffiness, and refreshes the tissue by moisturizing our skin – this makes tired-looking eyes sparkle immediately. Gently tap a small amount into the skin around the eyes every night before going to bed.
Curtains up for cat eyes!
Be it almond-shaped, round, low-lying, gibbous, big or small: Only those who know their eye shape can highlight them by using the proper makeup. In order to choose the right makeup, in addition to factors such as position and deepness, eyelids and inner corners should be beard in mind as well. Big, almond-shaped eyes are considered the perfect eye shape. By using special techniques, women who have a different eye shape can achieve this ideal, too. Eyeliner has proven to be an essential beauty tool: this way, women with round-shapes eyes can highlight their outer third of the eyes to visually balance the roundness. It is beneficial for gibbous eyes to use dark eyeliner on the inner lid, whereas small eyes look bigger by using highlighter under the eyebrow and bright hues on the moveable lid.
Say 'Hi' to Bambi
Even though the ideal eye shape is a matter of opinion, most women do not compromise when it comes to eyelash fluttering! In this case, the thicker, the longer, the curlier the better is the name of the game. Many women can't imagine living without using mascara. Modern formulations use high-tech materials such as nylon fibers, polymers and elastomers that are combined with intense pigments to create fabulous 'Bambi-lashes'.
Eye paintings
Besides eyeliners, eye shadows are an essential tool that make our eyes shine. Pearl-colored, metallic satin shades create a subtle glow – a special eye catcher for the summertime! From soft nude to lush and fruity hues to dark berry shades: this year's color palette offers something for everyone! Moreover, there's no lack of inspiration: We already saw some of the latest trends and creations on the runways, in high fashion magazines and on numerous social media channels. So why don't we draw our inspiration from nature? For example, an impressive "peacock eye" can be reinterpreted. In order to make this piece of art last all day, an eye shadow base or some loose powder should be used before applying eye shadow.
© 2016- 2021 CosmeticOBS