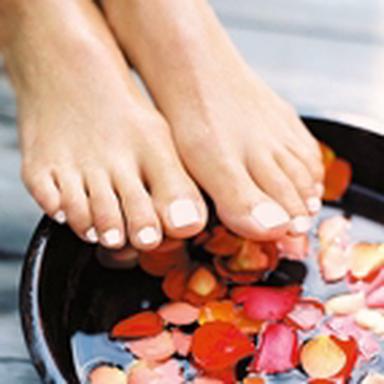 Summer is coming! And that is good news: at last, we can get lightly dressed and show our feet. However, after several months confined in their shoes, suffering the throes of winter, they look a bit sulky. So, before showing off with your sandals, CosmeticOBS has set up a list of 5 habits to be adopted for perfect feet.
If they are often overlooked, our feet do need their own skincare routine to keep healthy and remain pleasant to look at!
A relaxing bath
They walk, they do sports, they wear ill-adapted shoes… as a result, our feet can feel painful or numb, or even get swollen. Making them bathe in water with salt contributes to relieving them and helps soften hard skin.
To this aim, there is no need to go to a beauty salon: you will just need a basin, water, some salt or an effervescent pebble, and that is all there is to it!
However, this ritual should not be performed more than once a week, nor with warm water, otherwise your veins will swell. And salt should be used sparingly, not to make the skin dry.
Pumicing and scrubbing
Now that your skin is suppler, it is time to scrub plantar roughness. Two tools are available: pumice stone or graters.
Both are to be used on wet skin, with small circular movements on the skin roughness.
Although pumicing contributes to making your feet soft and smooth, it is an aggression for the epidermis. If the gestures are too abrasive, your skin may respond by forming even more calluses. As a result, this ritual should not be done too often, only every other week, not to overheat the area.
However, if there is too much hard skin, you had better consult a chiropodist, as they will know how to treat it in depth.
As for scrubbing, it will help soften the skin and remove dead cells. It can be done the same way as on any other body part: on wet skin, with a circular massage.
Hydration
If only one gesture should be remembered, there is no doubt it is this one. Hydration is just essential to make sure your feet keep healthy. Using a cream on a daily basis helps prevent the formation of hard skin and calluses, which can be painful. There are products adapted to this area on the market, so they should be chosen over the others.
The only rule to be followed is to avoid the area between the toes (unless you wipe them thoroughly afterwards), in order to prevent the formation of any mycosis.
For the laziest of you who just cannot force themselves to do this exercise every day, there are moisturizing masks for the feet. They look like socks made of cloth and soaked with a moisturizer which you just slip on. Once you have removed them, the skin is real soft.
Nail care
Before you put your prettiest sandals on, your nails should be fit to be seen!
First, they should be cut square – only cut the front part that sticks out. Chiropodists recommend not cutting the sides, because it favours the appearance of ingrown nails.
For those who want to give them a round shape, use a nail file.
Let nail varnish shine, it is summer! But before you put it on, do not forget to push back your cuticles with a boxwood stick.
As for the application, semi-permanent nail varnish is much more convenient than standard nail varnish, because it instantaneously dries and the result lasts at least three weeks, without any tear – perfect for seaside holidays.
Sweat warning
Summer rhymes with heat, and inevitably with sweat. And your feet are the first victims. So, to prevent any bad smells – and uncomfortable situations – several options are available:
• Have a faultless plantar hygiene
• Use anti-perspirant creams or deodorants specifically designed for this area
• Wear anti-bad smell soles (only for closed shoes)
If you perspire too much, the best option is to consult a professional.
© CosmeticOBS-L'Observatoire des Cosmétiques
© 2017- 2021 CosmeticOBS