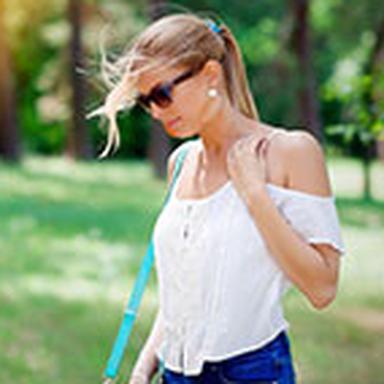 Summer has arrived! High temperatures and bright sunshine admittedly raise the spirits. Unfortunately, this combination does not get along well with make-up. While the foundation starts to run and stain, our face is unfavourably shiny which makes our complexion appear uneven. After a while eye shadow and lipstick, too, have vanished without a trace. Four tips to keep a cool make-up, body, and hair!
Flawless Summer Skin
The heat is making us break out in sweat: Not only do we have perspiratory glands under the armpit, the hands or feet, but also on our face. What was once designed as an 'air conditioner' of our body can now ruin our make-up in no time. This is why summery light formulations such as BB, CC or DD creams are much better than strongly covering foundations, cream powders or make-up mousses. They create a natural finish by simultaneously nourishing the skin.
A complexion correcting primer can be enough for some skin types to cover small blemishes and to make the skin appear radiant again. The matte effect is achieved by powder: it absorbs sebum and sweat and rounds out the look with a matte finish that can be touched up off and on during the day.
Like Ice in the Sunshine
Just like ice cream, eye shadow and lipstick can "melt away" rapidly. What a shame that such a lavish color palette dominates the summer! Blue is the trend color per se and looks perfect on blonde beach beauties, with tanned skin.
This summer's trend is also towards fruity fresh shades such as peach, raspberry or melon. This is also the reason why water- and smudge-proof textures are a great choice when it comes to eye make-up.
Waterproof mascara, smudge-proof eyeliner, eye shadow base or long lasting creamy eye shadows: these products make sure the eye make-up survives a bath in the cool water.
Smells Like Summer
Less is more during summer! This isn't only seen in fashion or make-up, but this also goes for fragrances. After having had heavy aromas during winter, it can now be a bit zappier: beside refreshing components such as bergamot or tangerine, floral chords or fruity scents, too, create a scent aura to die for. Matching deodorants keep ourselves fresh during the day, whereas antiperspirants reduce the activity of our perspiratory glands up to 60 %. Special creams or sprays make our feet fit again by refreshing the skin. A thermal water spray give us a fresh kick here and there.
Ready for the Beach
Casual beach waves, loose braids or a functional messy bun are the hottest beach looks. To make these hairy pieces of art stand a day in the blazing sun, proper styling and care products are in demand. To create elaborate braided hairstyles, single strands of hair should be sprayed with hairspray already while styling the hair. After having finished the styling, hair lacquer ensures an extra long-lasting look.
Our skin is longing for some UV protection… and so does our hair! Besides moisturizing shampoos, a conditioner after each shower comes with the territory, while a mask or an intensive hair treatment that are used once or twice a week regenerate the hair from environmental damage.
By following these simple rules, the hot season will be great for all the summer beauties!
© 2016- 2021 CosmeticOBS