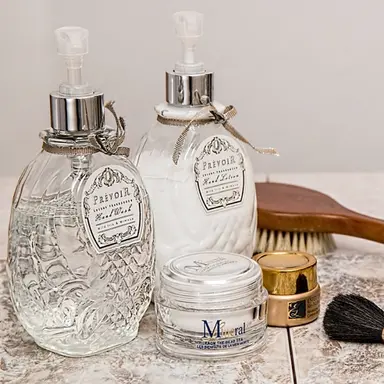 The packaging is thousands of years old. Since time immemorial, humans have invented containers to store and transport different types of goods. Over the ages, art has begun to influence the esthetics of packaging to the point of making it just as precious and beautiful as what it contains.
Originally, leaves, wood and stone were used to preserve.
"Then, during the Neolithic period, these primary"packs" evolved thanks to the sedentarization of the populations, the control of fire and the learning of art," explains Martine Chou, former packaging project manager at the Académie Scientifique de Beauté. "After this period, and as soon as trade spread around the Mediterranean, the jars that merchants used to transport their goods were marked and decorated. Writings were also made to identify what they contained. Other periods such as the invention of printing or the Renaissance contributed greatly to bringing a more artistic dimension to packaging."
Designers: allies of packaging
A great leap in history: we move on to the 19th century with the industrial revolution. Social changes are important. People move from the countryside to the city where the infant industries are located: this is the beginning of the chain work.
At the beginning of the 20th century, we realized that, in order to sell products properly, they must correspond to the needs of consumers. Thus, the pack must be ergonomic and attractive.
The industry is therefore beginning to use designers to meet this need, such as Raymond Loewy, who is accustomed to saying that "ugliness sells poorly".
"It therefore recreates much more fluid designs, reveals new forms, more practical, more attractive. It also helps to bring out something that didn't exist before, brands with their own visual identity, and it was he who created the logos for Dior, Chanel and Clarins," continues Martine Chou.
In 1929, it was the stock market crash that caused some damage to the world economy.
"In contrast, a renewed creativity is developing. Until then, the production curve was increasing, so it is necessary to continue and not lose everything that has been invested. We then see an intensification of creations, design agencies, communication agencies to sell products as much as possible," she adds.
Beautiful objects are making their appearance more and more, such as the perfumes that invite themselves to the hairdressers of these ladies or in the bathrooms.
One example is Guerlain's Shalimar bottle, made of crystal, decorated with a blue cabochon, created by the house of Lalique.
Over time, packaging becomes an object with high added value, which frees itself from its primary function.
Evolving manufacturing techniques
Many brands have been inspired by art to decorate their packaging.
To reproduce them as well as possible, they were first able to use screen printing and lithography methods.
Today, technological advances are such that it is easier than before to decorate packaging.
"Thanks to digital printing, there is no need to produce thousands of copies. We really have the right to make mistakes. 3D printing is also great, it allows you to build a prototype in record time and see very quickly if everything is viable, or if you have to start over."
Sleek shapes, elegant colours, ergonomics pushed beyond its limits, the cosmetics we consume must be as beautiful inside as outside.
Except that a new factor has been added to the equation: respect for the environment.
"We can mention the Slidissime airless jar from RPC, which allows you to take the cream by simply touching it with your finger. In addition to inventing a new gestural style and being elegant, this jar avoids any contact with the product and therefore makes it possible to offer formulas with fewer preservatives. This pack is certified Ecocert," says Martine Chou.
New requirements for packaging. To be purchased it must not only be beautiful but also the most eco-friendly.
JS
© 2019- 2022 CosmeticOBS