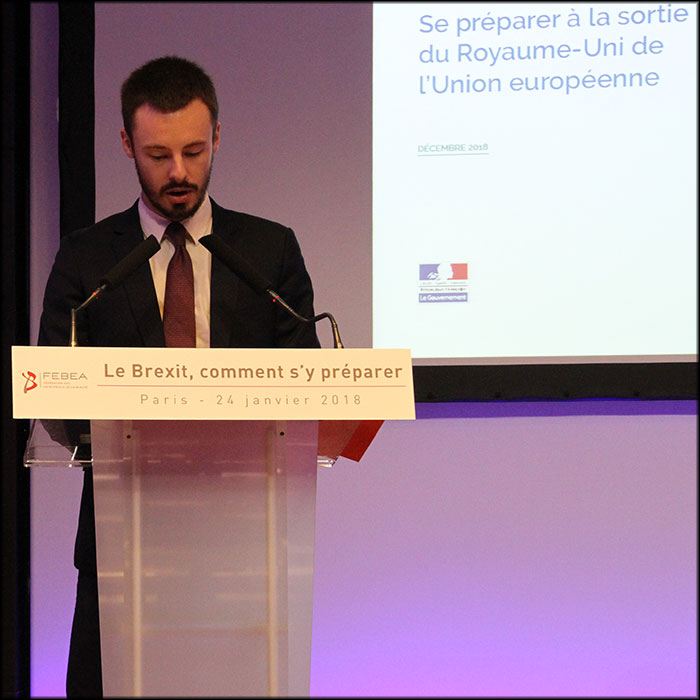 On 17 January 2019, the French government launched the "Plan related to a Brexit without agreement". For some time now, the possibility of an exit of the United Kingdom from the European Union without transition has been less and less ruled out, and incentives for companies to do so have been increasing. At the information meeting organised by FEBEA on 24 January 2019, Antoine Descamps, from the Bureau of Trade Policy and Export Support of the Directorate General for Enterprise, detailed the actions taken by the State services to help them do so.
Reading time : ~ 6 minutes
"The General Directorate of Enterprise has initiated a plan to raise awareness among companies since last year," said Antoine Descamps. "Initially, it took into account all exit scenarios. It has just been revised and focused very strongly on a scenario without agreement."
Without an agreement at the end of March, he recalled, the United Kingdom becomes a third country to the European Union, with which France has no trade or sectoral agreement.
And this has many consequences:
• The end of the customs union
• The end of the free movement of capital, services, goods, but also of people and therefore of workers
• The automatic restoration of certain regulatory barriers to exports and imports
• The end of the application of certain internal market mechanisms (e.g. mutual recognition of qualifications, intellectual property rights, etc.)
• The need to duplicate certain regulatory procedures relating to access to the British market
• The application of a new law, both in labour law and contract law…
French companies, like their European counterparts, are directly or indirectly concerned in several cases:
• If they sell goods or provide services in the United Kingdom
• If they purchase goods or use a service provider ...