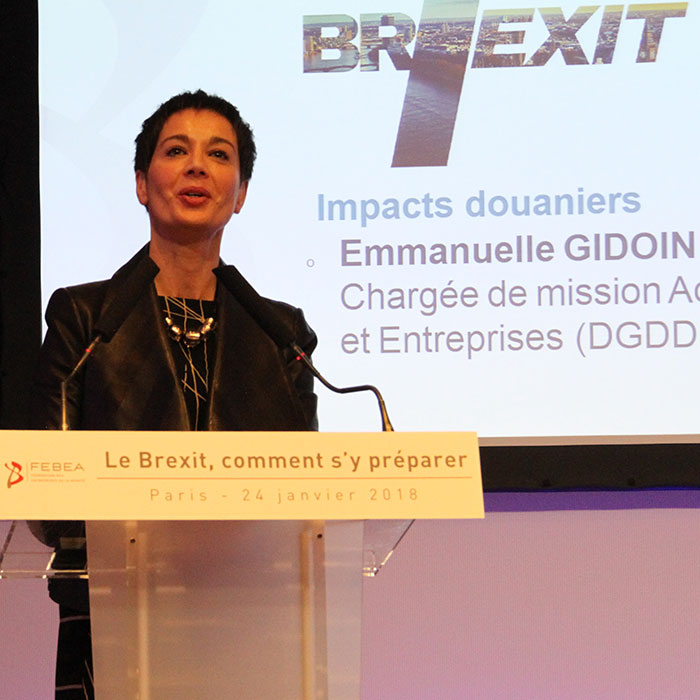 As the "No-deal" scenario (the United Kingdom's exit from the European Union on 30 March 2019 without agreement) becomes increasingly feared, voices are being raised from all sides to urge companies to be prepared for its consequences. Beyond the regulatory or legal implications, Brexit will also have an impact on the passage of goods through customs, which Emmanuelle Gidoin, Economic Action and Enterprise Policy Officer of the DGDDI, explained at the information meeting organised by the FEBEA on 24 January 2019.
Reading time : ~ 15 minutes
"We are really in a deadlock because we have a British Parliament that refuses to leave EU without an agreement, but rejects the agreement negotiated by Theresa May with the European Commission while maintaining its confidence in the government," said Emmanuelle Gidoin from the outset. "It is a rather complicated situation, but it is up to both government services and companies to prepare for the worst case scenario since the 'No-deal' scenario must be considered even if it is not yet certain."
The customs context
The speaker began her talk by recalling some fundamental notions.
The European Union: a customs territory
Today, the United Kingdom belongs to the European Union, which has 28 countries, and where common customs rules apply, governed by the Customs Code of the Union.
This customs territory therefore includes the 28 countries of the European Union, but… more or less some territories: Monaco and the Channel Islands, for example, are included, while some French territories such as French Polynesia or New Caledonia are excluded.
The European Union: a fiscal territory
The European Union is also a fiscal territory, with, once again, more or less 28 countries: Monaco and the Channel Islands are also part of it, but not French Polynesia, New Caledonia ...