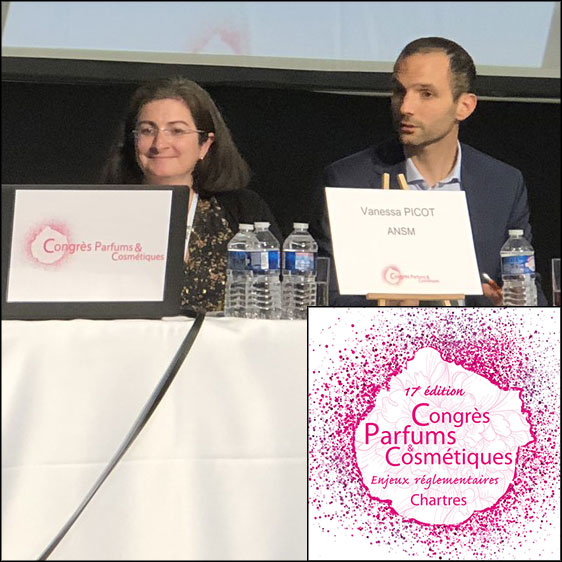 Transparency and publication of data, management of alerts, follow-up to the Health Police Decision on phenoxyethanol, alert on products containing prohibited ingredients (allergens or colorants in nanos forms)… the rich news of the ANSM was presented at the Cosmetic Valley Perfumes & Cosmetics Congress held in Chartres on 6 and 7 November 2019, by Julien Dupont, Head of the Market Surveillance Inspection Division, and Vanessa Picot, Cosmetics Inspector.
Reading time : ~ 25 minutes
The ANSM, and in particular the Inspection Department, is in full evolution: this is the first message brought by its representatives during this Congress. Several changes are expected between 2019 and 2023.
Julien Dupont and Vanessa Picot also presented a quantitative feedback on cosmetic inspection activities from 2017 to 2019, recalled the lessons learned from the campaign on cosmetic products used by beauty professionals in 2018, and focused on a few regulatory points: the DPS (Health Police Decision) on cosmetic products containing phenoxyethanol, the application of Regulation 2017/1410, nanomaterials with the case of titanium dioxide used as a colorant, obligations between principals and subcontractors. They finally unveiled a draft GMP certificate that the ANSM is about to issue to companies for export to China…
2019-2023 : the main issues of the ANSM
The second Objectives and Performance Contract, signed with the Ministry of Health in May 2019, sets out the ANSM's roadmap, with a key word: transparency on the Agency's work.
Data sharing
This new objective of transparency has several components.
The redesign of the agency's website
It is already partially implemented and aims to provide better access to information.
The data publication project
The principle is here: everything is published, subject to respect for legal secrets (intellectual property, industrial ...