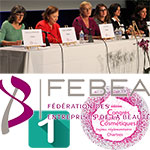 Just like every year, to conclude the Chartres regulatory congress, the whole FEBEA team (French Federation of Beauty Companies) answered all sorts of questions prepared by the congress participants over the two days of conferences. On the agenda of this 2017 edition: labelling and the INCI list, the PIF content, cosmetovigilance, animal testing, organic products, safety assessment, the new declaration of establishment, and of course, today's hot topic: 'endangered' ingredients like nanos and CMRs…
Reading time : ~ 13 minutes
Labelling
Product name
• The name may need to be truncated on the primary packaging for lack of space of for marketing reasons. Is a difference in the product name between the primary and secondary packaging a non-conformity?
Yes.
Product category
• Can we call a product cleansing oil or cream only based on its aspect, or should the product actually contain some oil or cream?
That is a recurring question: can we call a product 'Oil' if there is no oil in it…
It is reasonable to at least provide for a consumer test that concludes that, for the consumer, it is oil. There is no such text providing a framework for this designation, but the result should not be perceived as oily by the consumer.
Expiry date
• In which countries is an expiry date for products with a shelf-life of over 30 months mandatory?
For products with a shelf-life of over 30 months, Qatar requires the expiry date to be indicated on the packaging and excludes the possibility of adding a sticker: you absolutely need to use laser marking or ink jet, but only on the secondary packaging. MERCOSUR (Brazil, Argentina, Uruguay, Paraguay) also requires an expiry date for ...