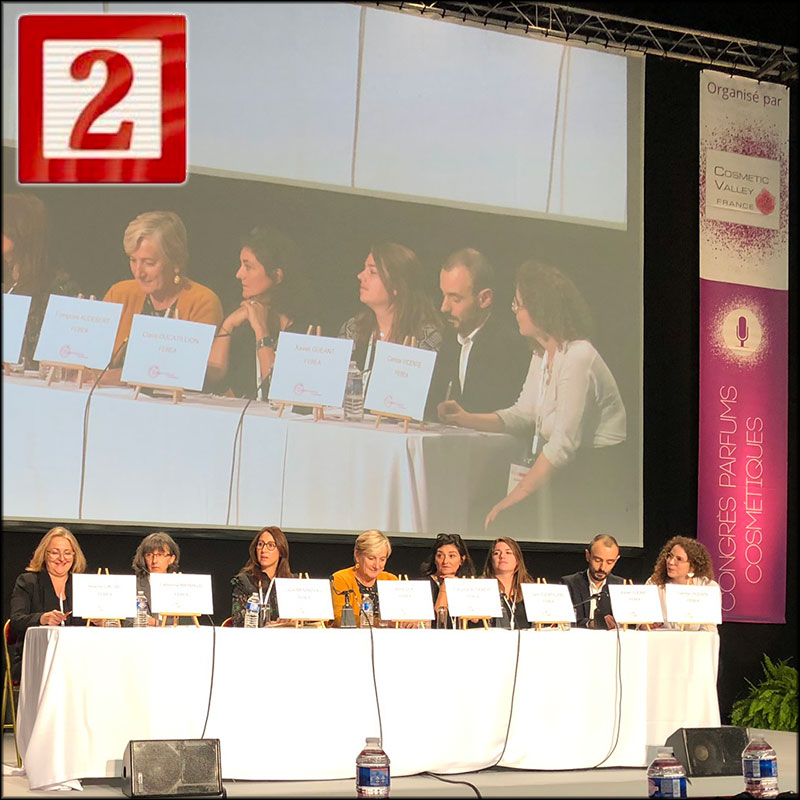 As every year, at the end of the Cosmetic Valley Perfumes & Cosmetics Congress held in Chartres on November 6 and 7, 2019, the entire FEBEA team answered the questions prepared by the delegates during the two days of the conference. A session punctuated by numerous questions about the compliance with Cosmetic and REACH Regulations, the Internet regulatory framework, the safety assessment or GMPs.
Reading time : ~ 25 minutes
They answered questions from delegates on November 7, 2019:
• Anne Dux, Director of Scientific and Regulatory Affairs, in charge of European relations
• Hélène Orliac, Director of Economic, Environmental and International Affairs
• Xavier Gueant, Director of Legal Affairs
• Laure Menanteau, Scientific and Regulatory Advisor
• Catherine Bramaud, Scientific and Regulatory Advisor
• Françoise Audebert, Scientific and Regulatory Advisor
• Claire Ducatillon, Head of Mutualised Audits Department - CVL Quality Assurance Manager
• Carlota Vicente, Environmental Affairs Officer
Regulatory obligations
Question Modification of a notification on the CPNP
What changes result in a modification of the CPNP notification? A change of formula without changing the master formula? A change of INCI? of packaging design? of name?
Catherine Bramaud's answer
For the CPNP notification, I invite you to consult the European Commission's User Manual, which is precise, and which gives the conditions under which you must do an update. On the Commission's website, there is also a Question/Answer section for this type of question.
Question Notice / Open book
Can you confirm that, if all the mandatory information is indicated on the primary and secondary packaging, a notice is not mandatory?
Anne Dux's answer
A notice is never mandatory. This is ...