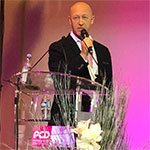 Packaging is often the first interface between a consumer and a product, so it is essential for it to be efficient. At the PCD 2018 show, Design Packaging consultant Philippe Devismes presented a comparison between packs of products sold in supermarkets and through the selective channel. He also gave clues to understand consumers' vision of them, which helped him determine the golden rules to create high-performance and effective packaging.
Reading time : ~ 14 minutes
There are basics valid for all types of packaging, whether they are found in supermarkets or in the selective channel, in particular their three main roles:
• Protect what it contains
• Bear information (brand name, texts, visuals, regulatory indications…)
• Seduce the consumer (colour, design, material…)
What particularly changes the packaging appearance and design is the environment in which it is placed.
Purchase: the background
Point of sale size, atmosphere, identity… all these are completely different whether consumers shop in a supermarket or through the selective channel. And it has repercussions on the way they buy products.
Supermarkets
An average supermarket offers a catalogue of about 45,000 different products. It takes 20 minutes on average for a consumer to do his shopping.
'In 20 minutes, the eye cannot perceive more than 5,000 products, i.e. 250 per minute,' Philippe Devismes explained. The time to make a buying decision varies from 8 seconds to a few minutes.
In the different departments, a consumer moves at a speed of 1 metre per second: 'At that speed, a brand represented on less than 20 cm facing on the shelf cannot be seen,' he emphasized. The average basket is eventually composed of 30 products.
Selective channel
A perfume shop like an average-sized Sephora ...