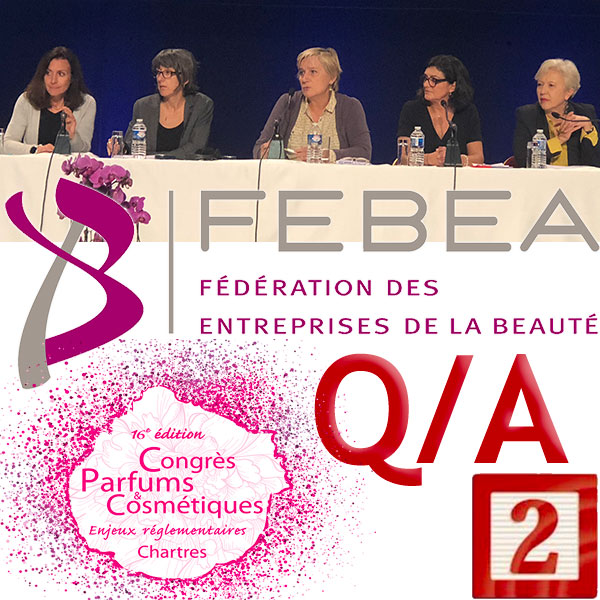 During the traditional Q&A that closes the Cosmetic Valley Perfumes and Cosmetics Congress every year, FEBEA's scientific, regulatory, environmental and international affairs experts answered the delegates' questions with open arms. Many focused on ingredients that have become "sensitive" in the news, on labelling rules or the ISO standard 16128 on natural cosmetics, as well as on Cosmetovigilance.
Reading time : ~ 18 minutes
They answered questions from delegates on November 15, 2018:
• Anne Dux, Director of Scientific and Regulatory Affairs, European Relations Officer
• Virginie d'Enfert, Director of Economic, Environmental and International Affairs
• Françoise Audebert, Scientific and Regulatory Advisor
• Raffaella Berioli, Scientific and Regulatory Advisor
• Catherine Bramaud, Scientific and Regulatory Advisor
Ingredients on the table
Question
A recourse against fanciful opinions expressed on authorized and duly evaluated ingredients by applications such as Yuca do they exist?
Anne Dux's answer
There are currently five downloadable applications on the French market that assist consumers in choosing their cosmetic products, some of which offer a substitute product. These applications involve ingredients on an unscientific basis, and it is not the same ingredients that are involved in different applications, so if you take a product in different applications, you will have extremely different results. We tested a sunscreen product with a score ranging from 13/100 to "Everything is green and everything is fine".
I will give you a little scoop: FEBEA has prepared a White Paper which includes a section on applications and a section on the ingredients involved. 11,000 copies will be distributed and given at the beginning of December to all sales consultants based in France ...