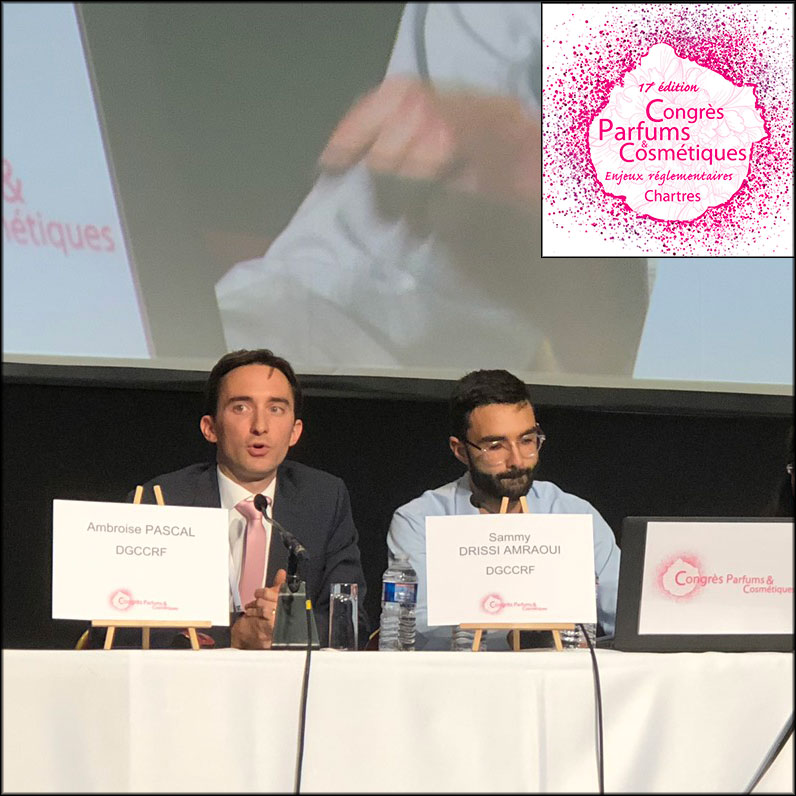 They control products safety, compliance with regulations that prohibit or limit the use of certain cosmetic ingredients, the veracity and relevance of claims… At the Cosmetic Valley Perfumes & Cosmetics Congress held in Chartres on November 6 and 7, 2019, Ambroise Pascal, Head of the Office of Health Products and Services and Human Services, and Sammy Drissi Amraoui, Editor in charge of Cosmetics at the DGCCRF, presented an overview of their actions over the past two years and announced the programme for 2020. With a focus on nano colorants and the claims "Natural", "Organic,"Free-from…" and "With"…
Reading time : ~ 19 minutes
One of the missions of the DGCCRF is to ensure the safety of consumers, both in terms of product safety and veracity of the information given to them.
The market surveillance carried out by its services has two main objectives:
• To put an end to illegal and dangerous practices
• To play a preventive role, through dialogue with companies and support for improvement initiatives
2018 : focus on nanos
In 2018, controls were organised around three areas:
• Cosmetic products (mainly sunscreen) containing titanium dioxide [nano] and zinc oxide [nano]
• Products sold in bazaar/solderie/wholesaler establishments (where products that have been on the market for a long time or even a very long time are likely to be found)
• The display of the list of ingredients on the Internet (an obligation that does not come directly from the Cosmetics Regulation, but which is very clear in the French Consumer Code)
These surveys were carried out in 89 departments (13 metropolitan regions and 4 overseas), 1800 establishments were inspected during 2300 visits, 700 products were collected for analysis.
General findings on operators
40% of the establishments had one or more non-compliances.
The most frequent non-compliances identified for the manufacturers Responsible persons
• Absence or incompleteness of the PIF
• Non-compliance of labelling ...