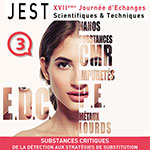 At Cosmed's 17th JEST, a day of scientific and technical exchanges held in Montpellier, France on September 29, and dedicated to critical cosmetic ingredients, toxicologist Alain Lombard made a complete update on what we know about endocrine disruptors. After dealing with the issues of definitions and identification criteria, as well as the mechanisms of action in the human body, he set up a list of substances recognized for or suspected of belonging to this category and evoked the testing protocols to detect them.
Reading time : ~ 12 minutes
Follow-up of articles
• Endocrine disruptors: an update on scientific knowledge (1/3)
• Endocrine disruptors: an update on scientific knowledge (1/3)
There is another term to designate endocrine disruptors: Endocrine Active Substances (EAS), which can be chemical or natural.
A wide variety of endocrine disruptors
Chemical EASs
They include a whole series of chemicals, synthetic drugs, herbicides, fungicides, insecticides, industrial components, consumer goods, polluting by-products, and heavy metals – more specifically:
• Antioxydants: alkylphenols
• Organometallic compounds: tributyltin salts
• Detergents: alkylphenols, nonylphenol, polyethoxylated nonylphenol
• Drugs: synthetic steroids used in control pills (Distilbene), ethynyl-estradiol)
• Pesticides: organochlorine (DDT, HCH, PCDD) or organo-nitrogen (thiazines) pesticides; vinclozolin
• Plasticizers: alkylphenols, nonylphenol, phthalates, bisphenol A
• Polychlorinated biphenyls (PCB)
• Combustion products: dioxins, furans, PAHs (Polycylic Aromatic Hydrocarbons)…
Natural EASs
They are found in plants and widely consumed in the form of food – both for humans and animals – and foodstuffs, or fungal secondary metabolites that can contaminate food.
This list comprises phytoestrogens in particular:
• Isoflavonoids (in hop and beer)
• Goitrigens found in cabbage, which can inhibit the absorption of iodine (glucosinates)
• Glycirrhizin found in liquorice, which can disrupt the mineralocorticoid system
• Genistein and daidzein in soya, ...