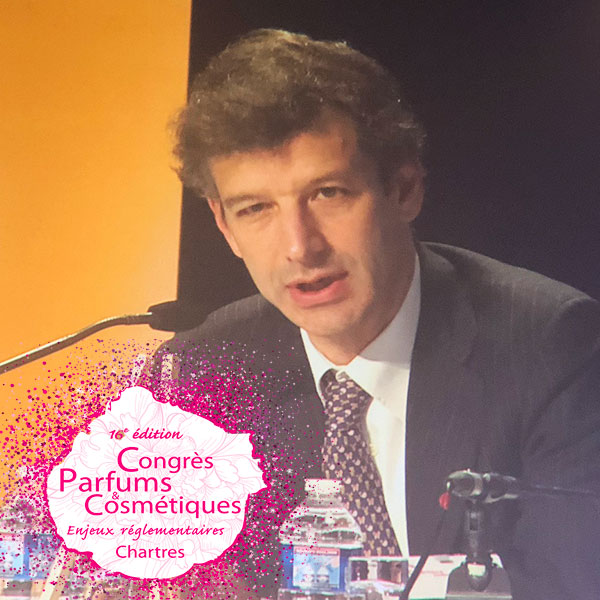 Endocrine disrupters, CMR, nanos, preservatives, allergens, claims, ingredient glossary… At the 16th Cosmetic Valley Perfumes & Cosmetics Congress, Salvatore d'Acunto, Head of Unit - Health Technologies and Cosmetics of DG Grow (European Commission), provided an update on European regulatory developments and gave some ideas on what to expect for 2019.
Reading time : ~ 21 minutes
Salvatore d'Acunto likes to recall that this year we are celebrating the fifth anniversary of the entry into force of Cosmetics Regulation 1223/2009. An opportunity for him to place the action of his department in the context of this fundamental text for the cosmetics sector: "The core of our activity is the technical adaptation of the Cosmetics Regulation by amending its Annexes, in line with scientific advances: it is therefore not a static document, but a living organism, constantly evolving, with the objective of achieving an internal market for cosmetics that maintains a very high level of consumer health. ut my department's tasks do not stop there: we are also following other horizontal activities that the Commission has recently undertaken, which have an impact on our sector. And there is also an international part that is an integral part of our policy."
The adaptations of Regulation 1213/2009
The decisions made
Since Salvatore d'Acunto last spoke at the same congress in 2017, three Regulations have been adopted to amend the Annexes to the Cosmetic Regulation:
• Regulation 2017/2228 introduced restrictions on the use of peanut oil, its extracts and derivatives and hydrolysed wheat proteins
• Regulation 2018/885 introduced the MBBT nano ...