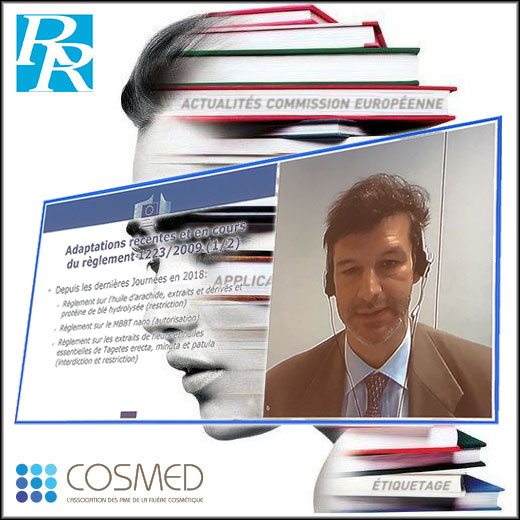 As usual, Salvatore D'Acunto, Head of Unit - Health Technologies and Cosmetics of the European Commission, spoke at the Regulatory Meetings organised by Cosmed on 21 March 2019, to present the progress of cosmetic regulatory dossiers. No big announcement, but the work that has been going on for several years is still ongoing.
Reading time : ~ 10 minutes
Adaptations of the annexes to Regulation 1223/2009
As it celebrated its fifth anniversary last summer, the Cosmetics Regulation still need to be adapted to technical and scientific progress, said Salvatore D'Acunto.
In the last 18 months, three Regulations have been adopted:
• Regulation 2017/2228 on peanut oil with restrictions on protein content;
• Regulation 2018/855 authorizing nano-MBBT;
• Regulation 2018/978 prohibiting and restricting flower extracts and essential oils of tagetes erecta, minuta and patula
Concerning the draft Regulations to come, four were voted by the Standing Committee on Cosmetic Products in December 2018.
They plan:
• The authorisation of Climbazole as a preservative at concentrations of 0.2 or 2% depending on the products
• The authorisation of Phenylene bis-diphenyl triazine as a UV filter
• The prohibition of 2-Chloro-p-phenylenediamine, currently authorised as a hair dye
• The adoption of the Omnibus Regulation on CMRs, which provides for a ban or, where applicable, an exemption from a ban, for nearly 200 substances classified as CMR until 2017
Finally, discussions are still ongoing on other substances:
• Zinc Pyrithione, which has been classified as CMR1B;
• Hydroxyethoxyphenyl Butanone, a newly developed preservative from industry that has received a positive opinion from the SCCS; the draft for its authorisation should be submitted to the Standing Committee for a vote in ...