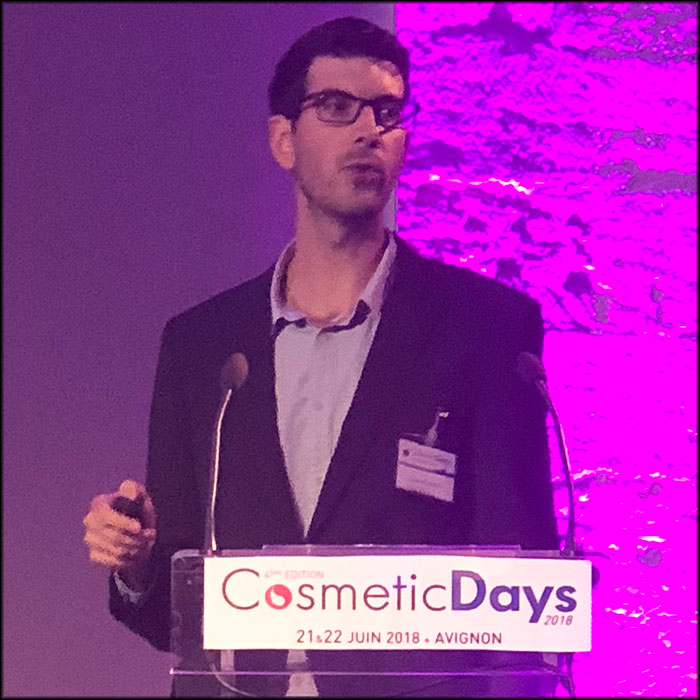 Essential oils are plant extracts, whose cultivation does not necessarily exclude plant protection products… How many of them can be found once the extraction is completed, and in what proportions? Can this also apply to organic essential oils? During Cosmetic Days 2018, Yoann Fillatre, who conducted studies on the subject within the ERINI research platform, came to provide answers to these questions, which have something to be wondered about.
Reading time : ~ 17 minutes
There are two major pitfalls when measuring the level of pesticides in an essential oil: the difficulties involved in carrying out analyses and the impact that regulations have on them. But research and data are getting richer, as Yoann Fillatre has shown.
Essential oils in a regulatory vacuum
Essential oils are extracts of vegetable raw materials such as fruits, flowers, leaves and plants with aromatic and medicinal scents. As in many crops, the use of pesticides is frequent.
We know that we are exposed daily to multiple sources of pesticides through food, whether we also find them in the air or in the soil. And that the problem must have dimensions in terms of toxicity and consumer safety. Regulations are therefore mainly oriented towards limiting exposure to these substances.
No maximum residue limits
The European Union has one of the most stringent regulations in the world concerning plant protection products, notably through Directive 396/2005. For each pesticide/matrix pair, whether fruit, vegetables, water or honey, maximum residue limits (MRLs) have been defined.
In order to control these MRLs and thus good agricultural practices, laboratories have at their disposal high-tech instruments and reference methods, which ensure reliable results for the analysis of pesticides ...