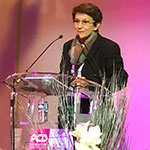 Marielle Belin is the founder of La Marque & La Manière, a consulting agency specialized in revealing the emotional personality of a world for brands, products, and services. She came to the PCD 2018 show to share her analysis of consumers' desires and motivations to better define the added value provided by packaging.
Reading time : ~ 7 minutes
As an introduction to her presentation, Marielle Belin reminded that innovation is crucial in the field of packaging. However, to her, its real value mainly depends on its perception by consumers, which is strongly related to their desires.
Understanding consumers' desires is essential to design relevant innovations for the market.
Consumers' desires
The digital revolution, societal and environmental crises have recently deeply transformed the ecosystem consumers live in. Overconsumption has lost meaning and ground to more and more well-informed, active player-consumers that want to better control their lives. As Marielle Belin highlighted, what they look for, first and foremost, is experience.
Still, this emerging trend is not totally dominant yet. Based on recent discoveries in neuropsychology, Marielle Belin detailed the two main levers that lead to the purchase of a beauty product today.
Desire related to the prestige provided by the product
Here, the consumer evaluates how her purchase may increase her own social value or attractiveness. Her desire for a product usually conveys a lack of self-confidence when she compares herself with others and a competition-oriented state of mind. Her emotions vary between positive and negative, and between excitement and disappointment with what she perceives she is. Her mantra ...