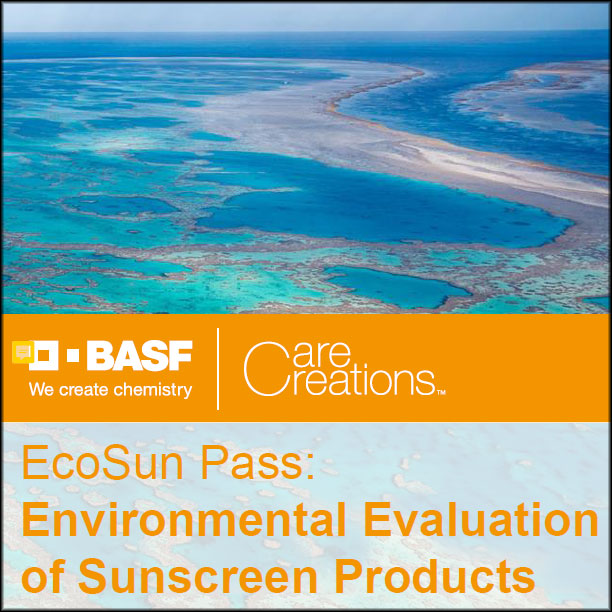 With widely diverging global regulations, increasingly controversial filters, whether due to their potential toxicity or their harmful effects on marine environments, consumer expectations for ever-increasing naturalness and safety… the formulation of sunscreen products is an increasingly difficult challenge. During the Ami'Days, organised on 4 June 2019 by the active ingredient supplier Ami Ingrédients on the theme "Green is the new Green", Stéphanie Acker presented BASF's EcoSun Pass, an environmental assessment tool for sunscreen products to optimise their formulas.
Reading time : ~ 12 minutes
Stéphanie Acker began her presentation with a reminder of the context.
Today, consumers are increasingly aware of the impact that sunscreen products can have on ecosystems, particularly coral reefs. One of their reflexes to minimize their own impact is to turn to natural or organic labelled products, based on the idea that a natural product cannot be dangerous for the environment.
But… with sunscreen products, things are not that simple. And in particular because, to avoid synthetic filters, natural and organic brands only use mineral screens, zinc oxide and titanium dioxide… whose harmful effects on corals have been proven!
"There is no direct link between the origin of a raw material and its environmental behaviour," stressed Stéphanie Acker. "The environmental effect of a UV filter must be considered holistically, taking into account either its biodegradation or its persistence, bioaccumulation in marine organisms, toxicity in soil, sediments and aquatic environments."
For her, the current approach to the issue of the toxicity of sunscreens on marine environments deserves a complete review.
The OECD 301B Biodegradability Test
To show that their products are environmentally friendly, some cosmetic brands highlight the fact that the biodegradability of their formulas has been tested according to OECD 301B.
But ...