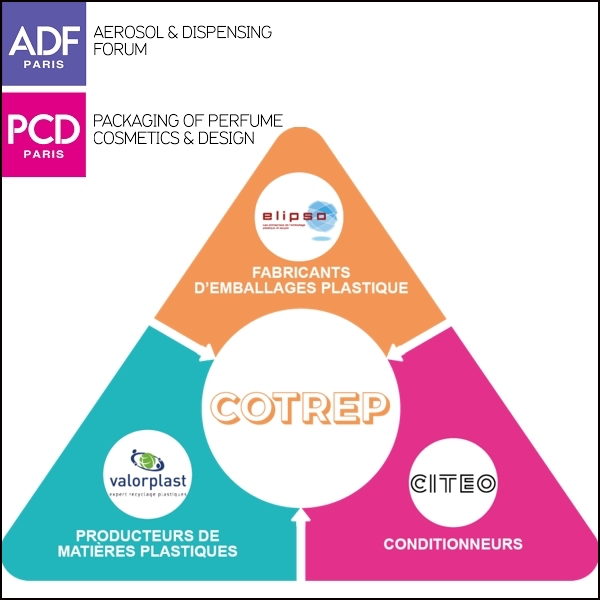 "Plastic Danger", we hear it everywhere. Once praised, it is now condemned because of its harmful impact on nature. However, if it is included in recycling and circular economy procedures, it could considerably improve its image. Emmanuelle Schoesling of Elipso and Oriane Broussard of Citeo are working on the reuse and eco-design of plastic packaging. At the ADF PCD trade fair held in Paris on 29 and 30 January, they explained how to use this material in a more sustainable way… in order to make it more eco-friendly.
Reading time : ~ 4 minutes
Before getting to the heart of the matter, let's recall that Citeo (packagers), Elipso (pack manufacturers) and Valorplast (polymer producers) created COTREP (Technical Committee for the Recycling of Plastic Packaging) in 2011. The aim of this structure is to help industrialists in the development of recyclable plastic packaging solutions in France.
"From a regulatory point of view, it has been decided that all plastic packaging placed on the European market should be recyclable or reusable by 2030. Several bills have led to certain single-use objects being banned, such as cutlery or cups," explains Emmanuelle Schoesling. "In France, our targets are very high, since we are aiming for 100% recycled plastics by 2025."
Recycling packaging
To be recyclable, plastic packaging must be thrown in the sorting bin by the consumer.
Once it arrives at the collection centre, it is distributed according to its nature and baled. It is then regenerated so that it can be reincorporated into future packs.
Overall, there are three types of packaging on the French market (all business sectors combined):
• Bottles and flasks
• Films and flexible packaging
• Pots and trays
These packages are mainly made up of:
• PET mono and multi
• PE and PP
• PS ...