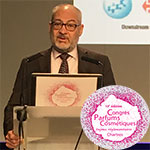 The long registration and evaluation procedure for chemicals placed on the European market is coming to an end, the last deadline being May 31, 2018 for tonnages between 1 and 100 tonnes a year. This date is particularly critical, given the difficulties for registrants and the consequences (and obligations) induced for downstream users. At the 15th annual Perfumes & Cosmetics Congress, Xavier Radisson, Scientific & Regulatory Affairs Director France of L'Oréal, made a complete update on this issue.
Reading time : ~ 20 minutes
As a reminder, the basic objective of the REACH Regulation was to remove the most hazardous substances from the market and ensure the safety of use of the others.
'The cosmetics industry is obviously impacted by this Regulation, since it needs the information generated as part of this framework and the resulting classification in the CLP Regulation,' emphasized Xavier Radisson. 'Many things depend on this regulation, for example the handling of substances in plants, the environmental impact, the transport and storage of the products based on these substances…'
2018 registrations
The May 2018 deadline is the last one. It concerns the substances manufactured or imported in quantities between 1 and 100 tonnes by a legal entity (manufacturer or distributor) and per year. The pre-registration period ended last August, which means the substances that were not pre-registered should be registered at once as new substances. Likewise, when a tonnage band changes, the files should be updated straight away.
After May 2018, all chemicals present on the market should be registered. If not, their marketing and use will simply be prohibited.
That being said, it is not that simple to register a substance, and both registrants and downstream users encounter different types of difficulties which Xavier Radisson detailed.
Registrants' ...