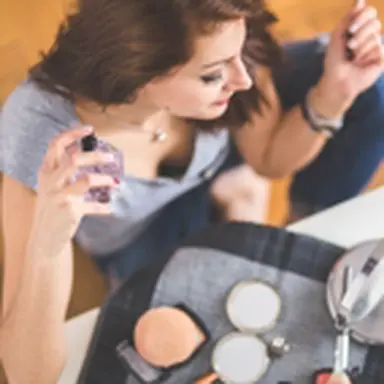 Putting on perfume is a daily, even routine gesture, but it reveals so much of our personality. At least that is what Aptar, world leader in distribution systems for the perfumes & cosmetics industry, has aimed to demonstrate. The company developed a Codex to define the different ways we put on perfume: a playful way for them to raise brands' awareness of the products they offer.
If putting on perfume is a most basic movement for the common run of people, at Aptar, it is just the opposite: Sabine Bouillet-Lubot, Strategic Marketing Manager Fragrance, explains that ' there are thousands of different ways to use perfume; it depends on various parameters. Our job is to renew and reenchant this gesture'.
Starting from there, Sabine Bouillet-Lubot and her teams initiated a study that lasted three years, from São Paulo to Seoul. What for? To try and see whether perfuming techniques varied according to people's age, sex, and even ethnic group.
The study results were extremely heterogeneous, which is how Aptar teams got the idea of compiling the different movements used to put on perfume.
The 'Codex des Gestuelles'
This mysterious name actually hides a glossary. The terms found in the first dictionary of this type are neologisms Aptar created as they endeavoured to characterize all the different ways humans spray their eau de toilette.
There are definitions like:
Débrumer (de mist ify) : action of vigorously tapping one's face with perfume during the morning routine to get rid of the early sleepiness feeling – a little like a strong espresso.
Ennuager (clouding over): transforming the fragrance into a cloud to better plunge into it and get wholly soaked with it – unclouded happiness.
Déliprécis (deliprecise) : refers to someone who delicately targets specific points like the back of their ears, down to their necks, wrists, elbow crooks…to retain the perfume.
Smelfie : this one refers to an olfactory cliché: smelling one's wrist soaked with perfume.
The Codex is aimed to highlight the group's expertise: Aptar intends to show brands perfume creation also includes the mode of distribution. Indeed, the mist effect or a more straightforward spraying gesture definitely contributes to creating the product aura and enhancing the consumer sensorial experience.
This glamorous, off-beat handbook on perfuming is available online. It is aimed both for fans of the genre and novices, but also for all those who would like to decipher how they put on perfume. The Codex des Gestuelles was set up as part of the Rituels project presented at the Parisian Grand Musée du Parfum, based on photographs and videos tracing perfumer-creator Jean Ellena's memories.
© CosmeticOBS-L'Observatoire des Cosmétiques
© 2017- 2022 CosmeticOBS