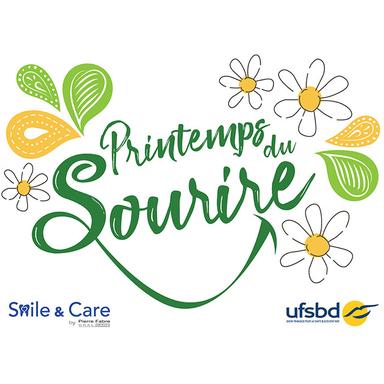 On the occasion of World Oral Health Day on 20 March, Pierre Fabre Oral Care, a leading pharmaceutical company in the oral hygiene segment, and the French Union for Oral Health and Dentistry conducted a major online survey on the French people and their oral hygiene. From which many misconceptions and insufficient practices emerge….. which make it necessary to recall some basic advice!
This survey* was conducted during the 3rd edition of the "Smile Spring", an awareness and education campaign on the importance of good oral hygiene.
It shows that the oral sphere clearly seems to be "detached" from the body: 36% of respondents do not know the correlation between being healthy and having good oral health and 23% of respondents who declare themselves in good general health reply that they are not in good oral health…
A strange paradox, while the links between general and oral health have been clearly established scientifically: oral pathologies represent the 6th cause of diabetes, promote cardiovascular disease and increase the risk of premature delivery…
Another key point of the study is that the French do not take into account the warning signs (bleeding during brushing, swelling of the gums, etc.) of periodontal disease, which, if not managed, can lead to tooth loss. There is a correlation between patients who report bleeding gums from time to time and those who have not had scaling for more than a year. Let us not forget that plaque and tartar are the main causes of the occurrence of periodontal diseases…
Neglected interdental spaces
75% of the French respondents think that brushing teeth is enough to clean 100% of the tooth…. That's not true!
Limited to the toothbrush, a good brushing frequency and duration cleans only 60% of the surface of our teeth with each brushing!
Indeed, after brushing, there are still impurities on the gums and interdental spaces because the toothbrush only cleans the internal, external and biting surfaces of the teeth. Before brushing, it is therefore necessary to ensure effective daily mechanical interdental cleaning to remove plaque from the remaining 40%.
How to clean interdental spaces?
Although 13% of respondents report cleaning their interdental spaces at least once a day in accordance with UFSBD recommendations, it should be noted that 87% do not do so at all… and 28% think that this interdental cleaning is only for adults… While the UFSBD recommends the use of interdental accessories from an early age, as soon as two baby teeth touch, to complete brushing.
Food stuffing and interdental cleaning: what are the differences?
Food stuffing (food that gets stuck between the teeth) is very common in the population. It is most often due to fibrous foods such as meat or fruit, which get stuck between two teeth during chewing.
If the food is not unblocked, it can cause gum inflammation, proximal caries and/or periodontal disease and is often responsible for bad breath.
To loosen a food between two teeth, one in two people uses a toothpick. The UFSBD and Pierre Fabre Oral Care would like to remind you that the wooden toothpick should be banned because it increases the risk of gum and cheek injuries and the risk of infection.
There are other alternatives such as protective silicone interdental sticks to remove food debris. However, they do not clean the interdental spaces, so it is recommended to use brushes or floss to clean and remove plaque.
The right accessories to clean interdental spaces
The use of mouthwash is the most frequently cited method among survey respondents for cleaning interdental spaces!
Although it has no mechanical action to remove plaque deposited between the teeth, its antiseptic action destroys some bacteria and reduces the signs of gum inflammation. Mouthwash is the ideal complement to daily oral hygiene… but it can never replace the use of floss and/or brush.
The results also show that very few French people know the effective accessories for this interdental cleaning, which must be done before brushing their teeth to help remove plaque. If it is done after brushing, the fluorine deposited in the spaces would then be removed.
Good hygiene, good tools
Floss, interdental brushes or dental jet for cleaning between teeth: what are the differences?
Small reminders….
Interdental sticks made of protective silicone
• Use: before brushing to dislodge food residues and fight against food blockage only.
• In practice: place the silicone stick between the teeth to clear food debris.
Dental floss
• Use: before each brushing to clean the interdental spaces and remove plaque deposited between the teeth.
• In practice: cut 40 cm of yarn. Wrap it around the index finger. Use both index fingers to guide the smooth passage of the yarn between the teeth with a shearing movement. Press the floss against the tooth and move up and down. Then place the yarn on the other side and repeat this movement (IDF Method - UFSBD).
Interdental brushes
• Use: before each brushing, for areas that are too wide where floss would be ineffective in cleaning interdental spaces and removing plaque deposited between teeth.
• In practice: moisten the brush and gently insert it while holding it slightly tilted forward. Make a small circular motion to facilitate insertion. Make a back and forth movement. Rinse well after use. Several brush sizes are available depending on the interdental space (SET-UFSBD method).
Dental jet - Hydropulsor
• Use: to complete brushing and quickly remove food residue and plaque between teeth.
• In practice: it can be used with a mouthwash
Mouthwash
• Use: in addition to mechanical action on the interdental spaces, after brushing and interdental cleaning to help remove plaque.
• In practice: mouthwashes complete the daily brushing and mechanical cleaning of interdental spaces, and provide fresh breath.
*Pierre Fabre Oral Care/UFSBD survey on the oral health of the French population conducted with 22,969 French people from 28 December 2018 to 10 February 2019 via Facebook - Twitter - Internet.
FP
© 2019- 2021 CosmeticOBS