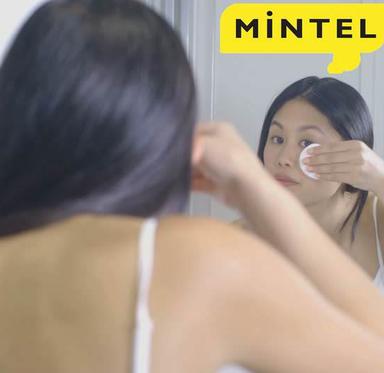 A Mintel study shows that two-thirds (66%) of urban Chinese consumers aged 20-49 with skin conditions say lifestyle is a major factor in these illnesses. Because of their traditional mentality, these consumers are more likely to change their lifestyle (72%) and pay more attention to daily facial care (71%) before taking additional steps to treat their skin problems. In contrast, 86% of men with skin diseases say they take no action, allowing the epidermis to heal on its own, compared to only 3% of women with skin problems.
Products designed to manage specific skin issues have a long history of development in China, but the cosmeceuticals industry only just started gaining momentum over the past few years. So far, only 38% of urban Chinese consumers* use cosmeceuticals to improve their skin conditions.
The most common skin conditions of urban Chinese consumers are not all the same for men as for women. Acne is the main concern of males (45% vs 38% among females), while they are less likely to report dark spots/pigments (24% vs 36% among females).
Alice Li, research analyst at Mintel, said, "Minor skin conditions seem to be no big deal for Chinese consumers. The majority of them don't bother to use specialised products or take medicines to treat their skin conditions. In order to broaden the consumer base and usage frequencies, cosmeceuticals need to promote more preventative usage by positioning the products as a holistic approach to maintaining healthy skin, or address lifestyle factors, such as stress or lack of sleep, which is regarded as the number one cause of skin conditions in China, according to our research."
Generally speaking, domestic cosmeceuticals are different from Western cosmeceuticals (normally known as dermocosmetics). Domestic products focus on treating specific skin conditions, usually with traditional Chinese medicine or herbal medicine; while dermocosmetics is tied to dermatology. In China, there is a growing trend of skincare products claiming to be dermatologically tested, growing from 3.3% of new product launches in 2015 to 8.9% in 2017, according to Mintel Global New Products Database (GNPD); meanwhile, the 'for sensitive skin' claim is also on the rise as it was featured in 12% of new product launches in 2017, even exceeding similar launches in Japan in 2017 (10.4%).
"As Chinese consumers highly value scientific data and endorsement from professional institutes to support product quality, dermatologically tested claims could help local brands build a professional and effective image," Li added.
What's more, cosmeceuticals are perceived as milder than general skincare products by 66% of respondents* and 74% agree it's essential that cosmeceuticals contain enough effective ingredients. While 60% agree cosmeceuticals formulated with fewer ingredients are safer, nearly the same percentage (62%) of respondents are concerned that long-term usage of cosmeceuticals may result in dependence.
"Our research shows that urban Chinese consumers have two equally important, yet potentially competing demands for skincare product ingredients; they need a star ingredient to demonstrate efficacy and as few chemicals as possible at the same time. Cosmeceutical brands could highlight their safety and mildness compared with general facial skincare products, and the positive impacts they have on maintaining healthy skin. Brands also have to do more to change the image that long-term usage may result in dependence," Li concluded.
\3,000 internet users in tier 1-3 cities aged 20-49; survey conducted November 2017.
© 2018- 2021 CosmeticOBS