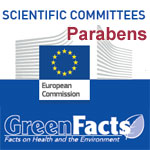 Consumer services, marketing department managers, sales assistants in perfume shops, beauticians, pharmacists … you do have frequently to answer questions by consumers concerned with the presence of parabens in cosmetic products. The European Commission has released a document  that summarizes the official position about them: the right basis to answer.
Reading time : ~ 5 minutes
Parabens used in cosmetics
Document to be downloaded underneath.