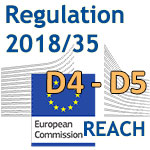 Regulation 2018/35 of 10 January 2018, published in Official Journal of the European Union on 11 January, amends Annex XVII of REACH Regulation 1907/2006, to limit the concentration of two silicones, D4 (Octamethylcyclotetrasiloxane – INCI: Cyclotetrasiloxane) and D5 (Decamethylcyclopentasiloxane – INCI: Cyclopentasiloxane) in wash-off cosmetic products. This provision will apply from 1st February 2020.
Reading time : ~ 8 minutes
The whereas of Regulation 2018/35
(1) On 17 April 2015, the United Kingdom submitted to the European Chemicals Agency ('Agency') a dossier pursuant to Article 69(4) of regulation (EC) No 1907/2006 ('the Annex XV dossier'), proposing to restrict octamethylcyclotetrasiloxane (D4) and decamethylcyclopentasiloxane (D5) in cosmetic products that are washed off in normal conditions of use. The dossier demonstrated that action on a Union-wide basis is necessary to address the risks to the environment posed by the use of D4 and D5 when discharged into waste water.
(2) On 22 April 2015, the Member State Committee, referred to in Article 76(1)(e) of Regulation (EC) No 1907/2006, at the request of the Executive Director of the Agency under Article 77(3)(c) of that regulation, adopted an opinion that both D4 and D5 fulfil the criteria in Annex XIII to that regulation for the identification of very persistent (vP) and very bioaccumulative (vB) substances.
(3) On 10 March 2016, the Agency's Risk Assessment Committee ('RAC') adopted its opinion, concluding that D4 meets the criteria in Annex XIII to Regulation (EC) No1907/2006 for the identification of a persistent, bioaccumulative and toxic ('PBT') substance and a vPvB substance and that D5 fulfils the criteria for the identification of a vPvB substance. RAC confirmed that the hazard properties of D4 and D5 give rise ...