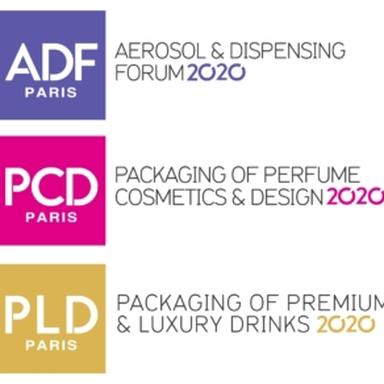 Considered as one of the events not to be missed in the packaging and aerosol sector for the cosmetics industry, ADF/PCD will be in Paris for tge 16th time at the Parc des Expositions de la Porte de Versailles. On 29 and 30 January 2020, nearly 700 exhibitors spread over 27,000 m2 will present their latest innovations to buyers from all over the world.
The 2019 edition of ADF/PCD was a real success. There is no question of stopping there for Easyfairs, the organizer of the event.
"ADF&PCD provides an overview of packaging dedicated to perfumes, cosmetics, beverages, aerosols and dispensing systems. This show shows the interest in sharing knowledge, technology and inspiration in these aligned market segments. The event was designed to stimulate dialogue about the issues facing brand teams. We expect 8,000 visitors over the two days, offering unprecedented networking and sourcing opportunities," said Josh Brooks, Director of ADF/PCD shows.
To make this edition memorable, the net exhibition area has been increased by 27% to accommodate about 100 new companies.
ADF/PCD is also an opportunity to participate in conferences led by professionals.
Here is the provisional program.
ADF conferences
Aerosols, Regulation and Public Perception: 2020 Outlook (Opening Remarks)
> Sebastian Kraus, Associate Director Packaging, Kao
Aerosols, regulation and public perception: 2020 outlook
> Alain D'Haese, European Aerosol Federation
> Steve Caldeira, Household & Commercial Products Association
> Nicholas George, Household & Commercial Products Association
Management of household packaging in the EU and France: the case of aerosols
> Gaultier Massip, CITEO
Boxes and valves
> Nathalie Thys, GSK (co-moderator)
> Jean-François Wimmer, Hutchinson (co-facilitator)
> Herbert Naef, Sun Chemical
> Anna Fitrzyk, Jago Pro
> Nikoletta Lemesanszkine-Piszkor, Tiger Coatings GmbH&CoKG
Boxes and valves
> Nathalie Thys, GSK (co-moderator)
> Jean-François, Wimmer, Hutchinson (co-facilitator)
> Rüdiger Löhl, E-proPLAST
> Alexander Hinterkopf, Hinterkopf GmbH
> Matt Dass, Springfield Solutions
Filling and formulation
> Johannes Burghaus, Procter&Gamble (moderator)
> Frank Verhoeven, Medspray
> Mark Nicmanis, Triple Line Technology
Aerosols, design for recycling and the challenge of sustainability
> Bernhard Felten, Beiersdorf
Towards a zero carbon design and sustainable production
> Michael W. Pritchard, Anyway Spray
> Jason Galley, Ball Aerocan
> Gilles Mangin, ArcelorMittal Europe
> Leopold Werdich, Tubex
Aerosol recycling: the material challenge
> Bernhard Felten, Beiersdorf (moderator)
> Alberto Malerba, Honeywell
> Kinza Sutton, Plastipak
> Mostafa Aboulfaraj, France Aluminium Recycling
> Thijs Feenstra, Pezy Group
> Alexis Van Maercke, APEAL
The future of aerosols until 2025
> Marc Spiniella, Johnson&Johnson
PCD conferences
Global Vision 2020: Global Design Trends and the Gen Z Challenge
> Christophe Pradère, BETC Design
> Charlotte Delobelle, Fashion Snoops
> Jeb Gleason-Allured, GCI (United States)
> Alnoor, Object of covetousness (Europe/France)
> Monique Large, Pollen Consulting in collaboration with an ethnologist
Zero waste and the future of eco-design by 2025
> Hervé Bouix, Estée Lauder
> Oriane Broussard, Citeo *> Eileen Marshall, Valorplast**
> Emmanuelle Schoesling, Elipso
> Pierre Meurice, Sustain Innov
*> Florent Girard, Créagif Eco Concept**
Plastic in the oceans: the reality and the packaging response
> Hervé Bouix, Estée Lauder
> François Galgani, Oceanographer
> Carole Carpentier, Clean Gestures
> Nicolas Moufflet, Lys Packaging
Plastic, circular economy and prospects for 2020
> Carole Janvier, Member of Parliament for the 2nd district of Loiret
> Serge Odof, ESIReims (moderator)
Beverage and cosmetics brands and the plastic challenge - round table
> Serge Odof, ESIReims (moderator)
> Corinne Fugier-Garrel, L'Occitane
> Nathalie Perroquin, Coty
> Vincent Delavenne, Coty
> Daniele Nebe, KAO
> Carine Christophe, Pernod Ricard
Unilever Innovation brand case study: new recycling technologies to improve sustainability in the luxury sector
> Serge Odof, ESIReims (moderator)
> Frédéric Dreux, Unilever
Joe Malone London, keynote of the brand
> Chris Gevers, Joe Malone London
> Virginia Elliott, Heinz
Is clean beauty the way to more sustainable packaging?
> Antonia Cadbury, Bulldog Skincare Men
> Astrid Mauduit, Wadding
> Louise Salvati, Cozie > Arnaud Lancelot, Cozie
> Anne Mechteld, Medspray
> Gauvin Emery, ABC Texture
The new luxury code and packaging solutions for natural fragrances
> Creezy Courtois, IPF
Sustainable development for customers
> Mathieu Prévost, UNIIC
Luxury: responsibility, no compromise
> Pascale Marciniak, Chanel
IB
© 2019- 2020 CosmeticOBS