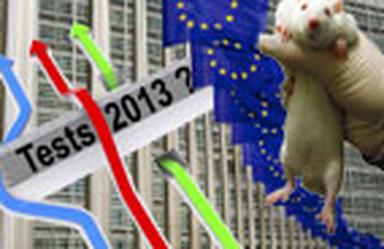 They are circulated on the Internet since a while. They are issued by animal activists, even by renowned artists. Petitions against all kinds of animal experiments are ringing the bell: Europe may go backwards, animal experiments could be allowed again. What is the situation? CosmeticOBS-L'Observatoire des Cosmétiques investigates.
March 30, 2011
Just as a reminder:
Since 2003, European regulations on cosmetics have enforced the principle of progressively prohibiting animal testing.
Several steps are already mandatory:
• Since September 11, 2004 : animal testing is forbidden on finished cosmetic products, i.e. those that are sold to users.
• Since March 11, 2009 : animal testing is prohibited on cosmetic products, the final formulation, ingredients or combinations of ingredients, except for tests concerning repeated-dose toxicity, reproductive toxicity and toxicokinetics.
These last ones are allowed until March 11, 2013.
What are the alternatives?
This prohibition relies on ethical reasons as well as the full regards to the welfare requirements of animals, as stated in the Protocol on protection and welfare of animals annexed to the Treaty but also on scientific arguments as it seems possible to switch from animal tests to alternative methods.
A plan is set on the European level to push for and validate these alternative methods, the European Centre for the Validation of Alternative Methods (ECVAM) being the main agent.
A Herculean task whose the first two steps have been enforced without a hitch. However, the third deadline is at stake.
It is likely, and for once 100% of the cosmetic world agrees, that the alternative methods for repeated-dose toxicity, reproductive toxicity and toxicokinetics will not be ready, even less validated, on March 11, 2013.
What shall be done then?
From concerns to rumour
Keeping things as they are means for the industry that new ingredients could not be used, from 2013 on, as marketing a cosmetic product untested for its toxicity would not be allowed. This would be a major drawback to development, which would target only the European manufacturers, other countries' regulations being less stringent.
This argument seems to have aroused an interest in some members of the European Commission, such as John Dalli, who gave the cosmetic industry members the assurance that he will "do (his) best to help innovation through the European regulation …" immediately understood by animal activists as: "We will continue to allow animal testing".
What is to happen (really) in 2013?
The European Commission has the burdensome task to make a decision.
François Bourrust, a member of the Cosmetology Commission in the French Agency for Safety ( Afssaps ) and an expert for the European Commission, when the Commission will have understood that the alternative methods for testing repeated-dose toxicity, reproductive toxicity and toxicokinetics won't be validated as per 2013 (and likely, not for a further 10 year), it will face a Hobson's choice of three options:
1/ The Commission decides to come back to animal testing for this specific application … and protests from animal activists will be searing.
2/ The Commission decides to stay stubborn with the 2013 deadline, even with no alternative tests validated … and will face a huge roar from the cosmetic products' industry. Due to the economic interests at stake, this is unlikely.
3/ The Commission decides to postpone the deadline for some years, or with no new deadline, so that new scientific data may help to develop alternative methods … but it could be a step back for a better jump.
A survey (not available to the public at large) is launched among stakeholders (read: the delegates of the member-States and of the cosmetic Industry) to understand the implications from these different options.
Up to now, and despite rumors, the Commission did nothing to let us know what option it is inclined to.
© 2011- 2020 CosmeticOBS
---
Associated elements(2)