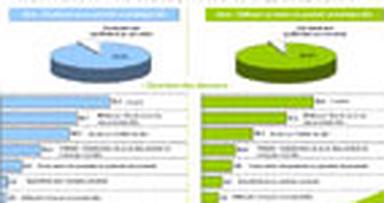 There's a lot of talk about the organic wave. In cosmetics, there is even talk of a promising trend, with some not hesitating to see in it the only future of the entire sector. Others, however, readily point out that the organic market share is still very small and that what they call fashion has its limits, both in resources and in development. This is the state of the debate when it comes to the sphere of professionals… But what about consumers? How do they perceive organic? This is what Cegma Topo, an opinion research and analysis institute, sought to determine in a survey published on 3 December. Decryption.
4 December 2009 "Bio in cosmetics" is a survey conducted by Cegma Topo via the Internet among 563 women aged 18 to 64 in October 2009. First observation: the share of organic products is still fairly limited in cosmetics, since only 28% of respondents declare using at least one organic product, choosing preferably facial care or day creams as well as body care. Most of these consumers are rather young, with a peak in the 30/34 age group. And this choice then corresponds to a global approach, since they also buy organic in other product categories, mainly in food and in the detergents and detergents sector.
Why do we choose organic?
In this matter, it is naturalness that prevails. Consumers first perceive organic cosmetics as composed of natural ingredients and free of chemical substances, while being respectful of the environment. No surprises, here again: it is on these criteria that the arguments of organic cosmetics are based, which has always been placed as a response to the polluting and possibly dangerous for the health of raw materials traditionally used by conventional cosmetics.
In the facial care category, 36.4% of organic"regulars" (and 39.4% in the specific facial care category) choose it for the absence of chemical products, the price factor only coming in 8th (and 5th) position of their purchasing criteria, whereas it ranks 2nd among the determining elements for"non-organic" consumers for facial care and 1st for specific care!
Click on the image to discover the complete tables.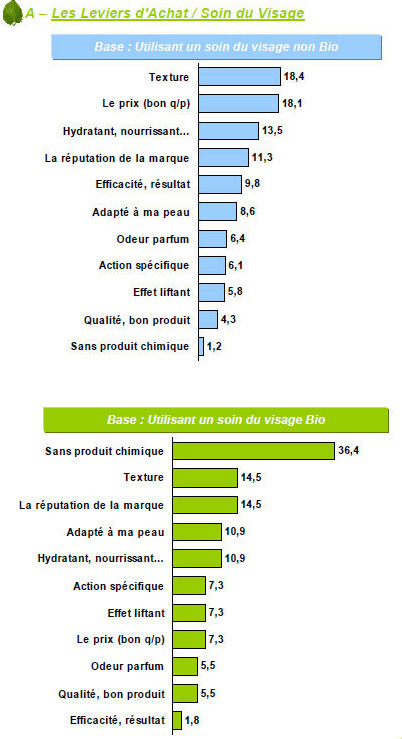 What characterizes an organic product
Note that for 11.6% of respondents, organic = no paraben . Which is true, but a bit reductive… even if it is also a reflection of what organic marketing has conveyed in recent years. The same percentage of consumers say that organic is also different in price, estimated more expensive… which is not necessarily always true either.
Click on the image to enlarge it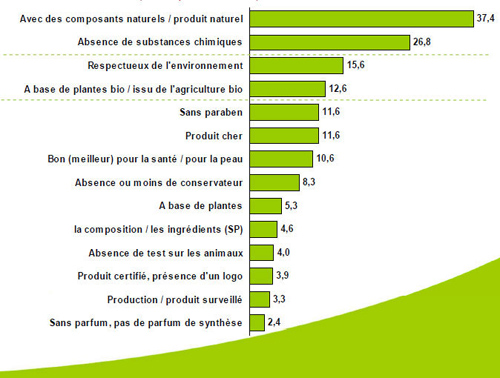 How do you recognize an organic product?
No problem for organic regulars: 52.9% of them identify an organic cosmetic with its label, while the majority of non-initiates refer to a simple"organic" label… or the green color of the packaging! Yet we know of many examples of green packaging that contains nothing organic, and often even nothing vegetable ! That said, even those who trust labels are wrong too! Many of them often confuse true label and brand or distributor of organic products! It's not quite the same thing, though. Good point on the other hand for users of organic cosmetics: 44.8% of them consider that what really differentiates an organic product from a conventional is its composition and the ingredients that are used.
Click on the image to enlarge it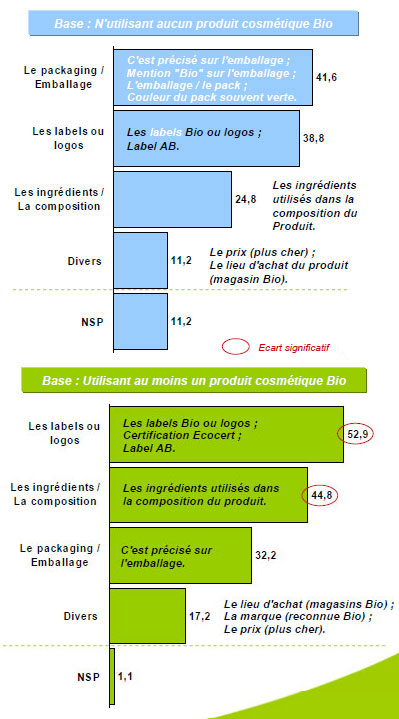 Other lessons from this study may give food for thought. The percentage of bio The ¾ respondents have in mind that an organic beauty product is composed of 95% ingredients from organic farming. Which is not true. Because if the label Cosmébio guarantees that 95% of plant ingredients are actually from organic farming, it only requires 10% organic in the final formula ! The credibility of organic Label or not, an organic cosmetic will be considered more"credible" if it is offered in organic stores or in pharmacies and parapharmacies. The supermarkets and even worse the hard discounters suffer on this point from an impressive image deficit: near ¾ people questioned do not trust them on this point! The obstacles to buying organic products If the organic cosmetics market seems to benefit from an important development potential (if we believe the percentages of consumers who say they are ready to buy an organic product in the future), it still suffers from important brakes… and not precisely justified! Thus, organic cosmetics are still considered globally more expensive than conventional cosmetics, which is in fact a variable data according to brands or product categories, and a general mistrust still persists, particularly as to its effectiveness. And here again, the study of the market and formulas obliges to beat this a priori in breach, a number of organic formulas proving very interesting and just as effective (if not more effective) than many others proposed by the conventional sector. In its conclusions to this investigation, Cegma Topo states that'the he organic beauty products seem to have a strong potential for development… but with a work of information and reinsurance for the brands ". We won't say the opposite: consumers' ignorance of the reality of organic farming can only alert players in the sector… and perhaps encourage organic marketing discourse to abandon the philosophical generalities and alarmist themes that it has made its battle horse, declined in as many"without" labels ( Paraben-free without phenoxyethanol Without this, which would be dangerous, without that, which would be toxic…) to move towards more concrete data and proven arguments, finally tell us the"with" of their products, which makes them interesting and often also their effectiveness !
© 2009- 2020 CosmeticOBS