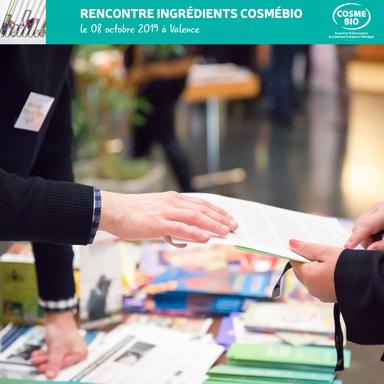 The organic cosmetics sector is booming. Market growth has exceeded 20% over 2016 and 2017 and the number of brands continues to grow. The demand for ingredients of natural origin is therefore also expected to increase in the coming years. To understand all the challenges this represents for the sector, Cosmebio is organizing a day of conferences and round tables on the theme of natural ingredients on October 8.
Today, more than 8000 ingredients are available on the COSMOS database. The Cosmebio Ingredients Meeting therefore aims to offer a showcase for suppliers' ingredients, regardless of their size or positioning. Many cosmetic innovations involve ingredients, so it is essential to keep up to date with the latest developments in this field.
Participating in the Cosmebio Ingredients Meeting means giving yourself the opportunity to discuss together the needs and issues of the organic sector in order to develop solutions that meet consumer demand.
In addition to this overall objective, the meeting also aims to:
• Develop the offer of ingredients that can be used in COSMOS-certified formulas
• Allow ingredient suppliers to present their innovations to Cosmebio members
• Identify areas of progress and gaps in terms of new ingredients that can be used in organic cosmetics
The event venue will consist of a conference and round table area, and an exhibition area, with 30 stands where ingredient suppliers can present their references and discuss with visitors.
On the agenda
• Round table on the issues and ingredient needs for the formulation of organic cosmetics in the presence of organic cosmetics and Cosmebio companies
Point on the problems encountered in formulating according to the COSMOS standard (acceptability of certain ingredients and absence of alternatives, technical limits in the formulation) and the needs for the development of organic cosmetics in the future
• Conference and/or round table "TiO2/ZnO nanoparticles: skin penetration, impacts and regulation"
Point on the regulation of nano in cosmetics, environmental impact, health impact and focus on skin penetration
• Conference and/or round table "Preservatives: toxicological point and alternatives"
What alternatives to the preservatives listed in COSMOS Annex 5? Risk of bacterial resistance and consumer allergies due to the reduction in the number of authorised preservatives
• Conference and/or round table "Sulphated surfactants: should we do without them? If so, how?"
Focus on sulphated surfactants: applications, cost, palm oil…, potential impacts of these ingredients on the epidermis, alternatives to sulphates
FP
© 2019- 2020 CosmeticOBS