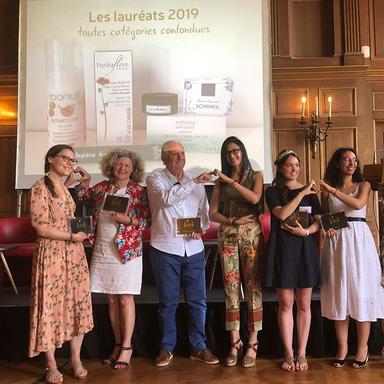 The professional association Cosmébio has unveiled the winners of its 2019-2020 Trophies, which reward the best natural and organic cosmetics of the year. This award ceremony took place on the occasion of the Cosmébio General Assembly, on June 25 in Paris.
"This annual competition, launched in 2014 and open to all products labelled by our association, is the only one to reward cosmetic brands for the quality of their products, but also for their ethical commitment: animal and environmental protection, fair trade, professional integration and education. These Trophies are intended to honour brands that have adopted a global responsible approach,"explains Cosmébio's communication department.
For this sixth edition, 18 candidates were in the running in three different categories:
• Sustainable sector
• Environment and biodiversity
• Innovation
Cosmébio brought together 140 jurors (journalists, bloggers, influencers and consumers) to decide between the candidates. For 6 weeks, they tested and evaluated the competing products at home.
Their evaluations concern their feelings before and after use and are based on 6 criteria:
• The evocative power of perfume
• The perception of the packaging
• The qualities of use
• Emotional engagement
• Packaging / product consistency
• The recommendation score
The two products in each category with the highest number of points were then selected as winners, for a total of six.
Category sustainable sector
Rich body cream - Esthetica Pure Nature
The product
This Cosmos Organic certified body cream is a rich and intense care product to nourish, repair and protect the skin.
Thanks to its natural formula with super-activated active ingredients such as organic coconut oil combined with organic sacha oil Inqi®, a rare and precious oil from Peru with nourishing and repairing properties, and organic aloe vera with softening properties, the skin is hydrated, elastic and supple.
Price: €26,62, 100 ml
The ethical commitment to the product
• Fair Trade
• support for the cultivation of Sacha Inchi and preservation of traditional skills • Fair for Life certification
• Support for producer villages • Eco-designed packaging.
Consult product sheet and assessment by CosmeticOBS
Pink Caress Beauty Oil - Hydraflore
The product
A true beauty elixir with nourishing and sublimating organic oils for the face, body and hair, Rose Hydraflora Caress Rose Hip Rose Beauty Oil helps to nourish the skin and improve its hydration.
Formulated for optimal tolerance, it is suitable for sensitive and delicate skin. Without essential oils, it is also suitable for pregnant women.
Price: €29,90, 100 ml
The ethical commitment to the product
• Support to an association of socio-aestheticians • Educational support for beauty schools
• Made in France
• Vegan
• 70% of the ingredients are from fair trade
• A Fair for Life certified company
Consult product sheet and assessment by CosmeticOBS
Environment and biodiversity category
<SOS balm my huilette Rescue - Les huilettes
The product
My Rescue huilette is the ideal SOS balm to nourish and soothe dry areas.
Suitable for face and body, this balm offers an immediate sensation of comfort and comfort!
Its small size is ideal to slip easily into a bag or when travelling!
Price: €25, 25 g
The ethical commitment to the product
• Support to the Up2green Reforestation association • Product made in France • Vegan • 100% recyclable polypropylene packaging • Does not contain a case
• Aluminium lid which allows a total protection of the product while being recyclable
Consult product sheet and assessment by CosmeticOBS
Superior sleep balm - Herbes & Traditions
The product
This sovereign balm helps to promote sleep. It helps to relax and soothe thoughts thanks to the joint action of ten essential oils such as lavender, Roman chamomile and neroli.
100% of the total ingredients are of natural origin and 98.71% of the total ingredients are from organic farming.
Price: €10,85, 30 ml
The ethical commitment to the product
• Establishment of solidarity, equitable and sustainable partnerships with local and international producers
• Eco-company approach
• Respect for cultivated terroirs
See the sheet of this product, and its evaluation by CosmeticOBS
Innovation category
The product
Intimousse is a foam specially formulated to gently cleanse the intimate area of young girls.
Enriched with prebiotics, undesirable elements are eliminated, without attacking the usual microbial flora that is preserved. Aloe vera and peach water soothe and prevent irritation.
Its velvety touch softens the intimate area naturally. No sulfated surfactants, no parabens and no soap.
Price: €7,70, 100 ml
The ethical commitment to the product
• The leading dermatological and organic brand for hygiene and care for children • Made in France
• vegan
• Recyclable packaging
• Foam texture easy to apply and fragrance adapted to children's tastes
• Formula enriched with prebiotics
Consult product sheet and assessment by CosmeticOBS
Mascara Jungle Length - Boho Green Make-up
The product
The all-new elastomer technical brush of the new Jungle Length Mascara has been designed to grab lashes, load them with material and lengthen them without a pack effect.
Result? Stretched eyelashes and a sublimated look! Formula enriched with cranberry water and carnauba wax.
Price: €14.50 per 8 ml
The ethical commitment to the product
• 99.25% of ingredients of natural origin
• 64.94% of ingredients are certified organic
• New rigid technical elastomer brush, • Vegan, a new formula based on organic cranberry water and organic brown flax extract with soothing properties,
• Eco-designed packaging made of FSC-certified cardboard.
Consult product sheet and assessment by CosmeticOBS
Products competing for the Trophies
JS
© 2019- 2020 CosmeticOBS