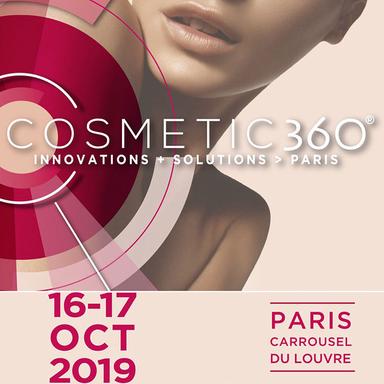 Launched in 2015 by the Cosmetic Valley competitiveness cluster, the Cosmetic 360 exhibition has become an essential event for all the players in the sector in five years. Major brands, SMEs, very small businesses, start-ups, public and private research laboratories, experts in innovation support will be present at the Carrousel du Louvre in Paris, on 16 and 17 October.
"At a time when digital technology, connected beauty, artificial intelligence and even biotech are opening up new horizons, the bias is clearly evident: bringing together in Paris the best players in global innovation. A bold initiative that reinforces the leadership of a French industry that is one of the jewels in the crown of the national economy," presents the Cosmetic Valley.
This year, the competitiveness cluster has opted for a very attractive programme to convince the 5000 visitors expected.
In addition to the traditional Tech Corner, Cosmetics 360 Award, Oen Innovation and Cosmetics Cluster Rendez-vous zones, the United States is the guest of honour at the show. An opportunity for all visitors to learn more about American trends in order to better understand this market.
The 2019 edition of Cosmetic 360 also innovates on the conference program.
This year, the organisers have decided to focus all the interventions on a common theme.
The theme chosen is "Activist Beauty" where all subjects closely related to CSR are discussed.
Detailed conference program
• Biomimicry as a tool for sustainable innovation
> Ayla Kiser, Johnson & Johnson - Senior Biomimetic Scientist
• Up-cycling: a new way to develop eco-socio-designed cosmetic active ingredients while limiting our impact on biodiversity
> Sophie Leclere-Bienfait, Laboratoires Expanscience - Head of innovation and active cosmetic development
• How do you get retailers to focus on longer term sustainability rather than short term profit?
> Jo-Anne Chidley, Beauty Kitchen - Founder
• When beauty activism leads to excellence for consumers: managing eco-sustainability from seed to skin
> Alban Muller, Alban Muller International - CEO
• Innovating sustainably, the future of innovation
> Laurent Gilbert, L'Oréal Research & Innovation - Sustainable Innovation Director
• Experience a sustainable supply chain in Madagascar
> Cyrille Doumecq, Seppic - Natural sourcing CSR Manager
• Be actively committed: a case study around Plant Cell Culture
> Brice Leclerc, Sederma - Regulatory manager
• Sustainable packaging: challenges, constraints and contradictions
> Nando Cutarella, Aptar - EMEA Director for EHS and Sustainability
• Valorizing vegetal food by-products in sustainable pickering emulsions for cosmetic applications
> Delphine Huc-Mathis, Agroparistech
• Emotional Beauty: Towards a more holistic view of age and self-perception
> Aïna Queiroz, Seqens Cosmetics
> Bethsabée Coutaz, Emospin
> Francis Vial, Spincontrol
> Arnaud Aubert, University of Tours
IB
© 2019- 2020 CosmeticOBS