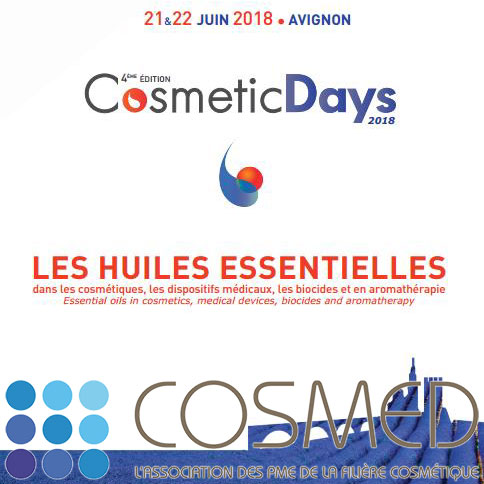 For its fourth edition, the scientific, technical and regulatory congress CosmeticDays, organized by par Cosmed, is devoted to essential oils in cosmetics, medical devices, biocides and aromatherapy. On the agenda: 22 conferences and an exhibition hall for SMEs, start-ups, public research laboratories and large companies to present their expertise and their latest innovations on the topics covered during the conference.
Reading time : ~ 4 minutes
Essential oils have gained considerable importance in less than ten years, driven by consumers' craze for natural health, beauty, and food solutions. According to Market Research Reports, the world essential oils market should grow by 9.60% by 2022 and reach 27.49 billion USD in value, mainly thanks to aromatherapy applications.
The European essential oils market should rise by 8.80% over the same time period. As for France, it is both a major production land (60% of the European production of lavender and hybrid lavender) and the main consumer market in Europe.
However, controversies have been emerging about the safety of essential oils in the event of misuse, the scope of their claims, and their future within consumers' arsenal of daily wellness and skincare products.
On the agenda
Regulations, controversies, safety, claims, changes… all these themes will be dealt with at this two-day congress, during which 22 conferences will be presented by professionals renowned in their own fields.
5 applicable regulations to essential oils
• Panorama of regulations in Europe. Focus on Canada
Hélène CHAUMONT – Puressentiel
• Marketing authorizations for biocidal products based on essential oils
Sophie Aviron-Violet – Staphyt
• Food supplements and essential oils
Violaine Chaumont - RNI Conseil
• REACH Regulation
Charlotte Bringer-Guérin – CIHEF
Controversies ...