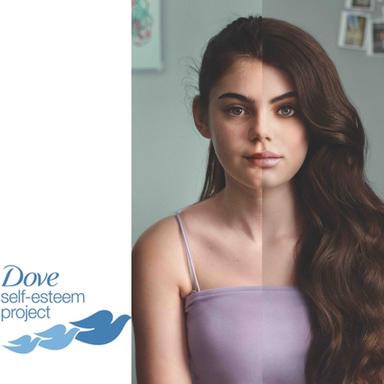 A fervent activist of the "body positive" movement, the flagship brand of the Unilever group fights against the diktats of beauty and advocates ever more inclusive standards. During a press conference on April 20, Dove presented its new campaign, Beauty without Filters. The cosmetic brand is attacking this time the filters that we use on social networks and that depreciate the image we have of ourselves.
It's a new "punchy" commercial that Dove unveiled. We see a teenager modify a selfie she has just taken. After some filters and retouching, the result is the opposite of the physicality of the girl. The campaign highlights the distortion with the reality that exists on the networks, but also the lack of esteem felt by the protagonist only 12 years old … and by many others.
Today, putting yourself on Instagram, TikTok, Snapchat is commonplace, especially among Generation X. All these platforms allow you to apply filters on the photos and videos you post. Some are used to dress up as a cat or a potato, while others offer the possibility to erase dark circles, smooth the skin texture, erase imperfections. And it's precisely this category that Dove attacks in its latest campaign.
Overwhelming figures
According to the brand, half of the young girls living on this planet do not have confidence in themselves. When they feel bad about themselves:
• 80% of them refuse to see those around them (friends and family)
• 70% of them will not dare to speak up
• 70% of them put their health at risk.
And social networks, as convenient and entertaining as they are, can have a very dangerous impact on these teenagers
According to figures revealed by Dove, 76% of teenage girls have already modified a photo before they were even 13 years old. While this figure is frightening, it is not surprising. Editing apps are among the most downloaded tools on smartphones.
Social media has such a detrimental effect on teenage girls that:
• 70% of them compare themselves to influencers
• 40% of them feel that they don't live up to the beauty standards of these platforms
• 80% of them post selfies in order to receive some "validation" from Internet users
• 50% of them are afraid that they are not pretty enough to do without filters
But if we think that only young girls are victims of the pressure of social networks, we are wrong.
At Dove's digital press conference, journalists were asked to answer the following question: do you remember the first time you retouched a photo of yourself?
• 10% said they always did it
• 19% said they had never done it
• 28% indicated that they did it at school
• 43% said they did it when they joined social networks. These results speak for themselves
"Filters are a perfect ground for expression and creativity, but when they are used to distort reality and conform to beauty standards, it can damage self-esteem. Dove wants to highlight this issue and help provide tools to help young people navigate social media in a positive way, explains Firdaous El Honsali, Global Director of Communications and Sustainability at Dove.
To do so, the brand has published two guides, aimed at teachers and parents, in order to give keys to start a dialogue with young people and thus deconstruct the diktats imposed by society.
Today, platforms like Instagram or Snapchat are part of the daily life of the vast majority of us. This is not to demonize them. On the contrary, Dove's mission is to make them healthy, benevolent places where all physiques can express themselves.
This work of education and prevention is a real societal challenge. To promote a plural beauty, full of asperities and diversity…
JS
© 2021 CosmeticOBS