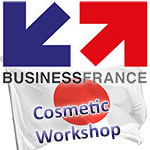 Business France organizes a Cosmetic Workshop dedicated to Japan on Tuesday, March 20th. This informative seminar will be focused on the Japanese market and regulatory framework and will help participating companies make an update on the conditions for placing cosmetic products on the market in this country. You still have a bit of time to register.
Reading time : ~ 4 minutes
The Japanese market is considered as a springboard for the rest of Asia.
Key market data
Skincare and makeup account for two thirds of the cosmetics market. France is the first cosmetics supplier in Japan. The segment it dominates the most is perfumes.
Japan is one of the most dynamic and advanced markets in the world as regards men's cosmetics.
For Japanese consumers, packaging is just as important as the product itself.
Key regulatory data
In Japan, beauty products are classified as cosmetic products or quasi-drugs.
Under Japanese regulations, about fifty claims are authorized for cosmetic products (for example, 'Protect nails', 'Make hair supple', 'Keep hair and scalp healthy'…).
A free trade agreement between Japan and the European Union is under negotiation.
Cosmetic Workshop Programme
Japanese cosmetics market
Mikako Shiina, Development Officer Business France Tokyo, will describe this market through several themes:
• What are the characteristics of the Japanese market?
• What opportunities does the market offer? On what segments?
• How important are the 'Made in France' claim and French brands?
• What are the best strategies for successful distribution?
Japanese regulatory framework applicable to imported cosmetic products
Farah Fliti, Regulatory Information Project Manager Asia for Business France, ...