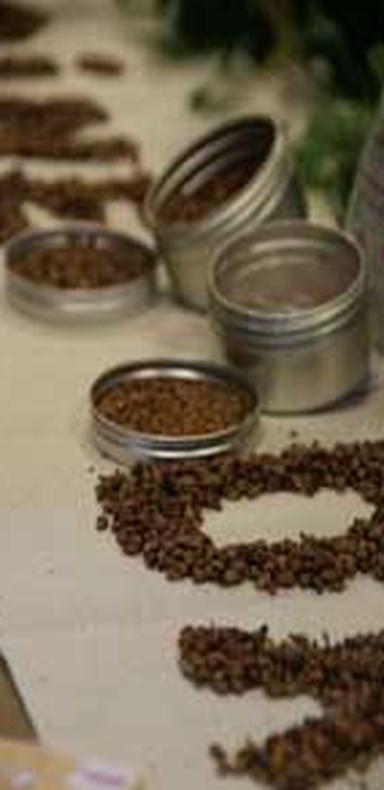 Everybody knows that France is a noted authority in cosmetics. The French know-how and the quality of the products are renowned the world over. Often copied but never matched up, the French cosmetic industry has a reputation, which makes it the leader; but for how long? Indeed, we are not alone on the market; competition, more and more active, compels us to be more original and creative. Can our country afford the answer? Maybe this question is partially answered when looking at the 2nd annual contest U'cosmetics held in Guingamp (Brittany) University on March 24, 2011.
April 01, 2011
U'cosmetics may be defined by three words: creation, innovation, meetings. The first contest, held in 2010, was a great success. The purpose of this contest is to have students from different courses of study in cosmetics facing up to others, in a good mood, for sure! Their vision and their emerging know-how are emphasized through the creation and development of new ideas for cosmetics: end product or marketing concept. A panel of professionals from the cosmetics industry, formula designers, ingredients suppliers or sub-contractors is the judge of their work. U'cosmetics is also an opportunity for students to have a taste of the real world, thanks to the symposium held at the same time with professionals talking about a specific theme.
Set up and organized by the students of the Guingamp University in collaboration with the University Bretagne Sud in Vannes (Brittany), U'cosmetics is up to now the only national event, which allows for the meeting and comparing of students from different courses of study in cosmetics who are judged by professionals.

Focus on the second contest
After the success of the first contest, students, even more creative, registered en-masse this year. From almost all over France, Universities sent students: Montpellier, Rennes, Vannes, Tours, Versailles, Aix/Marseille, Villejuif, Guingamp, all are Universities and schools that train their students to become the designers of tomorrow cosmetics. This year, 24 application forms were sent, 10 among them being qualified for the final by judges.
Students could choose between three themes: "natural cosmetics", "innovative cosmetics concept", and this year, a "regional cosmetics". Three themes, which let open the gates of creativity!
Further, the audience, comprising professionals, journalists, students, of course, but also everyone interested in the topic, could attend conferences based, this year, on the "regional cosmetics" theme, an idea to highlight the French regions through cosmetics. Quite a lot to get through!
Innovative and "natural" ideas
Four out of the ten competing groups won. Their projects captivated the panel of judges who award prize considering the theoretical file as well as the final product, the quality and the arrangement as a whole. Sandrine Morvan, in charge of the R and D department in Laboratoire d'Armor, and the President of the panel, adds "The quality level is high, and choosing among them has been a difficult task. We base our choice on different criteria, share ideas and vote by a show of hands; everyone has a say".
An overview of the prized projects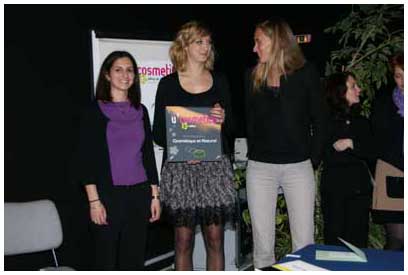 . The "natural cosmetics" prize was awarded to Julie Dapsens, Mélanie Dumont, Soline Grabit, Julie Hattab and Marine Souche, students in Montpellier, who designed Graine d'Xfolie , a do-it-yourself exfoliator. Very simple: on the one hand, a gel, on the other hand, a scrubbing base made of very small marbles of grape seed (to let skin moisturized ). The concept allows for the adapting the mix to the part of the body (body or face) which the product will be applied on, using a prototype of a kind of an adjustable pepper mill that gives the exfoliating particles different sizes. This product is at the same time unsophisticated, handy, amusing, and suits any kind of skin due to the soft and "natural" formula of the gel and to the adjustable sizing of the particles.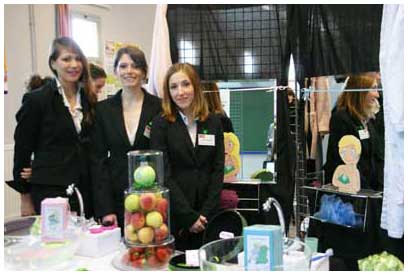 . The "innovative cosmetics concept" prize was awarded to Charlotte Dubois-Lefebvre, Amélie Fréchot and Sumiré Hirot, students in Rennes. As they are in a Marketing training course, they did not manufacture their product, but have developed their idea. This idea is called Bout d'Choux, which, in French is a word game between "bout de chou "cabbages". It is a care for children based on organic cabbages, an ingredient rarely used in cosmetics but full of vitamins and antioxidants. Unsold vegetables are treated by a company specialized in extracting from vegetables what can be recovered. In this example, an active product is extracted along a dye (thanks to the pigments in the cabbages flowers). Everything has been designed to be "bio", the French word for "organic, natural, without any synthetic product, pesticide, etc.": the outside packaging is made of to-be-recycled cardboard, the wrapping materials used for the product itself are made of potato or corn starch, unsold cabbages are used … The sales points are finalized; the students have had many ideas to push for their project, such as a small book telling the story of a "Princess of Cabbages"! This is a "bio" product, an amusing project.
. The "regional cosmetics" prize was awarded to Émilie Valat and Adeline Amory, students in Guingamp. Their source of inspiration? You bet: Brittany! They came with a kind of "Breton Menu". As an aperitif, a cider- and apple-based effervescent powder for bath; as a starter, a moisturizing exfoliator with sugar "à la Kouign Amann" (Kouign Amann is a Breton cake full of sugar, butter …); in fact, it is a balm high in butter, which slowly melts when on the skin. As the main course, a salted butter fudge-based moisturizing peeling-off crêpe. As for dessert, a Plougastel strawberry-based moisturizing jelly, smooth and light, which easily enters the skin, does not stick, and moisturizes the skin with a light fruity fragrance left after. As for the "digestif" (the French generic name for strong alcohols after dessert and coffee), no alcohol, sorry, but a brown algae- and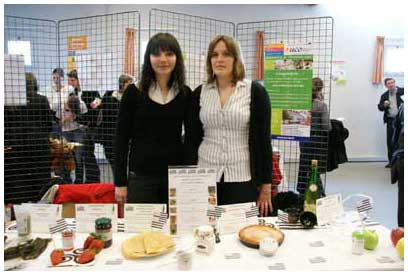 artichokes-based gel designed to tone down the "orange-skin", which lets a mint fragrance and gives a feeling of freshness. All of this is very close to a typical Breton menu, while products are pleasant to use due to their textures and fragrances.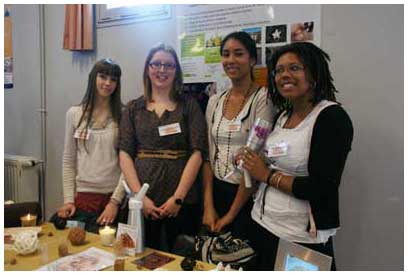 . The Students' Special prize (awarded by students to their preferred project) has been won by Sunny Abrant, Mélissa Boursiac, Élodie Delezay and Amélia Makoundou, from Montpellier. Their project, called Pralin mouss'fondante, is a kind of mousse for massage, which becomes as oil when in contact with skin. Based on cocoa butter, nut oil and almond oil, this amusing and enjoyable massage care is new because it is a mousse, a challenge in cosmetics as it is difficult to make oil lather!
All these innovative projects have been later displayed in the In-Cosmetics show held in Milan at the end of March 2011: another boost to these "creative" students for an entry in the professional world!
And what about professionals?
France may boast about having many students "full of resources", but they are not the only resources it can use. All along the day, alternately with the students' presentations, professionals gave conferences on the topic of "regional cosmetics". From Provence to Normandy, from Burgundy to Brittany, our country has a lot of ingredients or active products that push the more and more prized "Made in…region". Algae from Brittany, grapes from Burgundy, apples from Normandy or lavender from Provence, all are marketing advantages that brands push forward. The issue is to make a "regional product" more "attractive" by playing the French expertise, and more specifically, the regional know-how. More and more designers decide to take the plunge, helping in restoring the region's reputation, in making it more attractive and modifying preconceived ideas!
The "Made in …Region" works, with a positive answer in exports; the "products typical of our regions" have the flavour of the French traditions. Due to the variety of its climates, landscapes, to the strong regional habits, France is in a good position to take benefits from the "Tradition-based" market, displaying an attractive range of products and efficient ingredients.
Well, to those who question France's ability to stay atop of a harsher and harsher market, the answer is: Yes, we can, no doubt, and let us be proud of it! Our students full of ideas are ready to take over today's professionals. As regards to resources, be they from our regions or from our Universities, our country has plenty of them. We are now impatient to know the tomorrow's products!
© 2011- 2020 CosmeticOBS