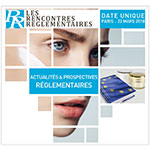 Each year, COSMED organizes a day devoted to the French and European regulations of cosmetic products. These Regulatory Meetings allow all professionals in the sector to be informed on the latest regulatory news in the cosmetics sector, to exchange with regulatory authorities and experts. They will take place this year on a single date, 22 March, in Paris.
Reading time : ~ 4 minutes
This event is aimed at company managers, creators, managers or regulatory affairs, R&D, formulators, toxicologists, quality engineers, marketers, responsible pharmacists.
The programme of the conferences
Tasks and annual reports of the supervisory authorities The final report of the 2017 inspections detailing recurring non-conformities, control points and areas for improvement will be drawn up by Manuela Boutillier and Vanessa Picot, Cosmetics Inspectors of the ANSM and by Catherine Argoyti, Assistant to the Head of the Health Products and Services Office (5B) of the DGCCRF. The 2018 inspection campaigns will also be announced.
Allegations: impact of the application of the European Commission's Technical Document,"without" and"hypoallergenic" claims François Bourrust, from Solutech, and Chairman of the COSMED Regulatory Commission, will present the key points and the legal scope of the technical document published in August 2017, which constitutes the position of the majority of Member States, including France, on allegations.
Work in progress and timetables for the European Commission's developments Salvatore D'Acunto, Head of Unit GROW D.4 of the European Commission, will present the topics under discussion.
The Nagoya Protocol applied to our sector: Actors, raw materials, constraints… Bruno David, Pierre Fabre's Director of Natural Substances Research, R&D Sourcing and Botany, will provide concrete answers to all the questions raised ...