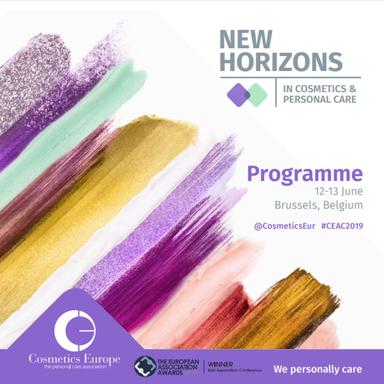 The 2019 edition of the Cosmetics Europe Annual Conference will be held in Brussels on 12 and 13 June. In its plenary and parallel sessions, it will address key topics of the moment for the cosmetics industry: new horizons for Regulation 1223/2009, sustainability, consumers, risk-based safety assessment… Ask for the program!
CEAC 2019 will gather over 300 industry experts, policy makers and companies, who will discuss general, technical and regulatory developments in the cosmetics industry.
The conference will provide a mix of plenary sessions, multiple parallel breakout sessions and networking opportunities.
Wednesday, 12th June
• Opening remarks by Loïc Armand, President, Cosmetics Europe
• Keynote address by Timo Pesonen, Director-General, Directorate General for Internal Market, Industry, Entrepreneurship and SMEs (DG GROW)
Plenary session: New horizons for the Cosmetics Regulation
• Salvatore D'Acunto, Head of Unit, Health Technology & Cosmetics, DG GROW, European Commission
• Monique Goyens, Director-General, BEUC
• Gerald Renner, Director Technical Regulatory Affairs, Cosmetics Europe
A. Microplastics restriction proposal
• Meglena Mihova, Managing Partner, EPPA
• Clare Liptrot, Product Safety & Regulatory Affairs Manager, Croda International
B. Industry communicates - insights on the best communication strategies
• Ronald Van Welie, Director, NCV
• Frederick Warzée, Head of Communications and Corporate Sectoral Sustainability, DETIC
• Irene van Luijken, Communications Director, CEFIC
• Jana Zaric, Public Relations Director, EURACTIV
C. How open is open? Transparency of safety assessment and safety assessment procedures
• Genevieve Michaux, Partner, Mayer Brown
• Ellen Pfrommer, Head of Product Stewardship Personal Care, BASF
D. China/India ready to align with international best practices?
• Cocoa Liu, Cosmetic Group Manager, European Chamber of Commerce in China
• April Guo, Cosmetics Regulatory Affairs Manager, Chemical Inspection and Regulatory Service (CIRS)
• Malathi Narayanan, Secretary General, IBHA India
Plenary session: The lion in the cage – Supporting risk-based approaches
• Julie Girling, Member of the European Parliament (Moderator)
• Robert Madelin, Chairman, Fipra International
• Horst Wenck, Corporate Vice President Front End Innovation, Beiersdorf
• Matti Vainio, Head of the Risk Management Implementation Unit, European Chemicals Agency
A. First analysis of the new European Parliament landscape - what it means for business
• James Stevens, Partner, Rud Pedersen
• Markus Warasin, Cabinet Member of the European Parliament President Tajani
• Peter-Boris Schmitt, Head of EU Office and Senior Manager, Political Environment and Products Affairs, Henkel
B. New horizons for consumers
• Stéphane Truchi, President, IFOP
• Anita Willemars, Journalist and blogger
C. How to address packaging in the Cosmetic Product Safety Report
• Anne Fuchs, Associate Director, Kao Europe Research Laboratories
• Speaker 2, TBC
D. New Frontiers: Cosmetics in North America
• Beta Montemayor, Director, Science, Regulation & Market Access, Cosmetics Alliance Canada
• Francine Lamoriello, Executive Vice President - Global Strategies, Personal Care Products Council
Thursday, 13th June
A. Local regulatory challenges in a Global e-commerce market
• Delphine Dauba-Pantanacce, Global Senior Legal Counsel, Head of EEC Regulatory Policy, Ebay
• Els Vrindts , Inspector Officer and Coordinator, Belgian Competent Authority, SPF Santé Publique, Securité de la Chaine Alimentaire et Environnement
B. Modulating the skin microbiome - Regulatory and safety aspects under the EU Cosmetics Regulation
• Bernhard Paetzold, Co-founder & CSO of S-Biomedic
• Gerald Renner, Director Technical Regulatory Affairs, Cosmetics Europe
C. Latest developments in the SCCS world
• Natacha Grenier, Policy Officer, Country Knowledge & Scientific, Committees, DG SANTE, European Commission
• Vera Rogiers, Professor, VUB
• George Manikas, Policy Officer, DG GROW, European Commission
D. Is there one global solution for the unique product identifier?
• Christoph Staub, VP Global Business Development & Strategies, Laetu
• Anne Laissus-Leclerc, Sub-contracting, Technical and Regulatory Affairs Director, LVMH
Plenary session: New horizons for sustainability in business
• Ed Gillespie, Futurist specialized in corporate sustainable development
Reflections on New horizons
• Birgit Huber, Deputy Director General, IKW
• Hervé Toutain, Senior Vice President - Product Stewardship & Public Affairs, L'Oréal
FP
© 2019- 2020 CosmeticOBS