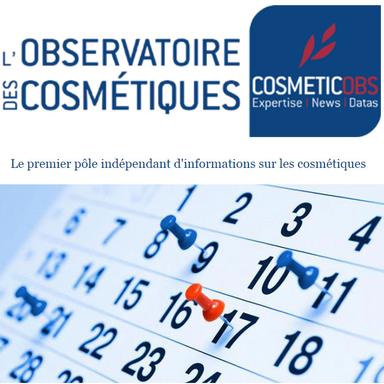 Very regularly, the CosmeticOBS editorial team attends different types of events: congresses, exhibitions, press presentations, conferences… Just as regularly, it offers exhaustive reports to its subscribers, with its articles, summaries, videos… So get ready to know…
The editorial staff will be present at the following events
• Pharmacosmetech, September 15-17, Chartres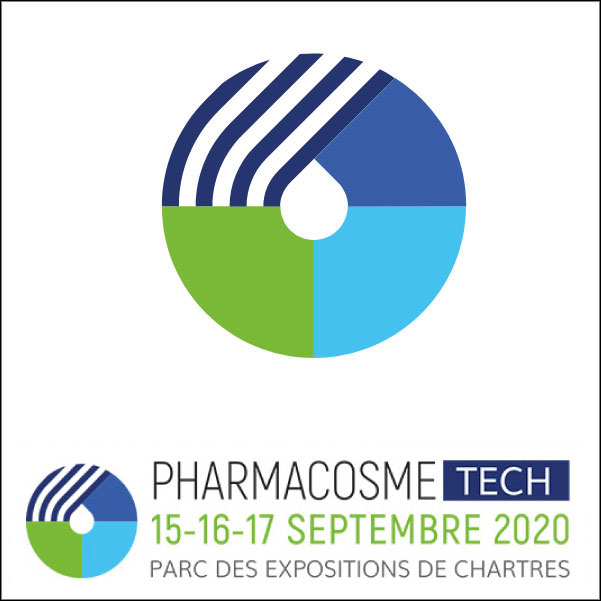 Pharmacosmetech is the leading trade fair for services, equipment and processes for the pharmaceutical and cosmetics industries, for perfumery and fine chemicals. Its second edition, which was to be held in Chartres from 31 March to 2 April 2020, has been postponed from 15 to 17 September, due to health guidelines concerning the coronavirus limiting the number of people who can attend the events to 1,000. It will bring together more than 300 exhibitors to present their technological and industrial innovations and will host a programme of technical conferences.
Located in the heart of a geographical area that includes more than 42% of French industrial activities in the "Health/Beauty" and pharmaceutical sectors, the Pharmcosmetech exhibition will be held under the aegis of its two partners, Cosmetic Valley and Polepharma.
• Sun protection on the JEST 2020 agenda, September 25, Montpellier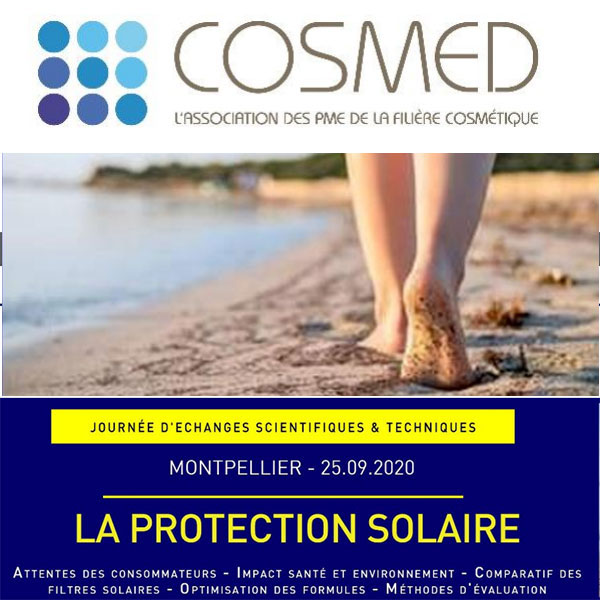 Sunscreen products are still among the most controversial cosmetic products and the most difficult formulas to develop. The 2020 edition of the JEST (Day of Scientific and Technical Exchange) organized by Cosmed is dedicated to them.
This conference day will be held at Montpellier SupAgro (Mauguio Airport Zone) on 29 September 2020, from 9am to 5pm. It can be followed in streaming or face-to-face: Cosmed will implement preventive health measures (provision of masks and hydroalcoholic gels, distancing of seats).
• 13th edition of the Natural Cosmetics Conference, September 29-30, Berlin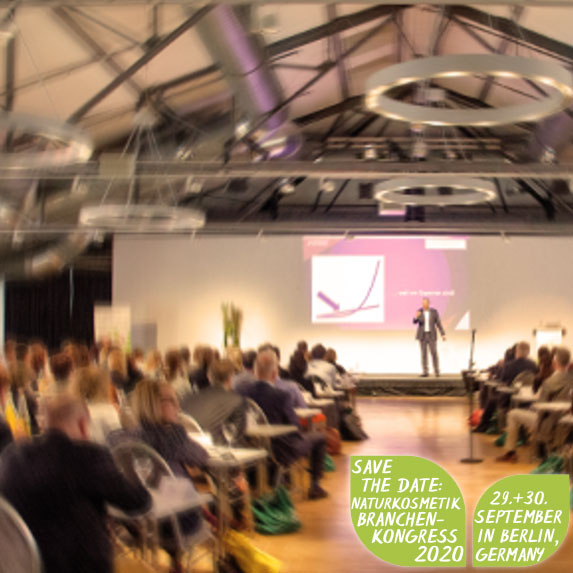 The international Natural & Organic Cosmetics Conference will be held on September 29 & 30, 2020 in Berlin, with the tagline "sustainability is the new luxury".
The 13th edition of the conference will showcase current topics that are relevant to the entire cosmetics industry.
With of course in focus the coronavirus crisis, which today determines the global market developments.
• Cosmed Regulatory Meeting, October 1st, Paris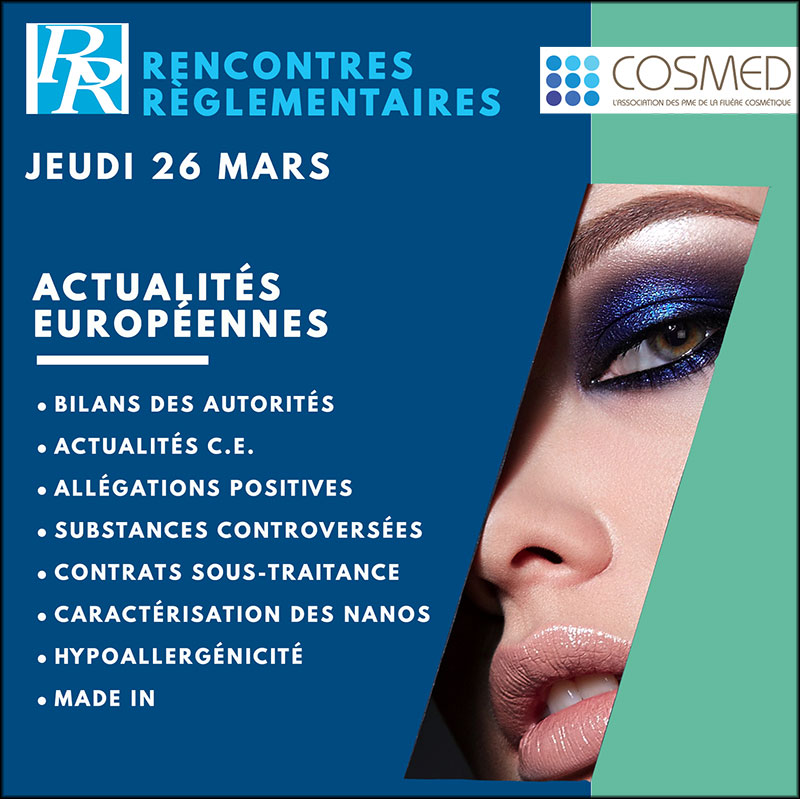 On the agenda of this annual day dedicated to French and European cosmetics regulations: reports by competent authorities, the European Commission's regulatory news, positive claims (market news, regulatory positioning), controversial substances, the lack of formalization between subcontractors/suppliers and brands, the rules for determining the "Made In", the assessment of the absence of sensitizing potential, the problems related to the characterization of nanos…
Initially scheduled for Thursday 26 March 2020 in Paris, this event has been postponed to October 1st due to the protective measures implemented to limit the epidemic due to the coronavirus.
• Cosmed International Meeting, October 2, Paris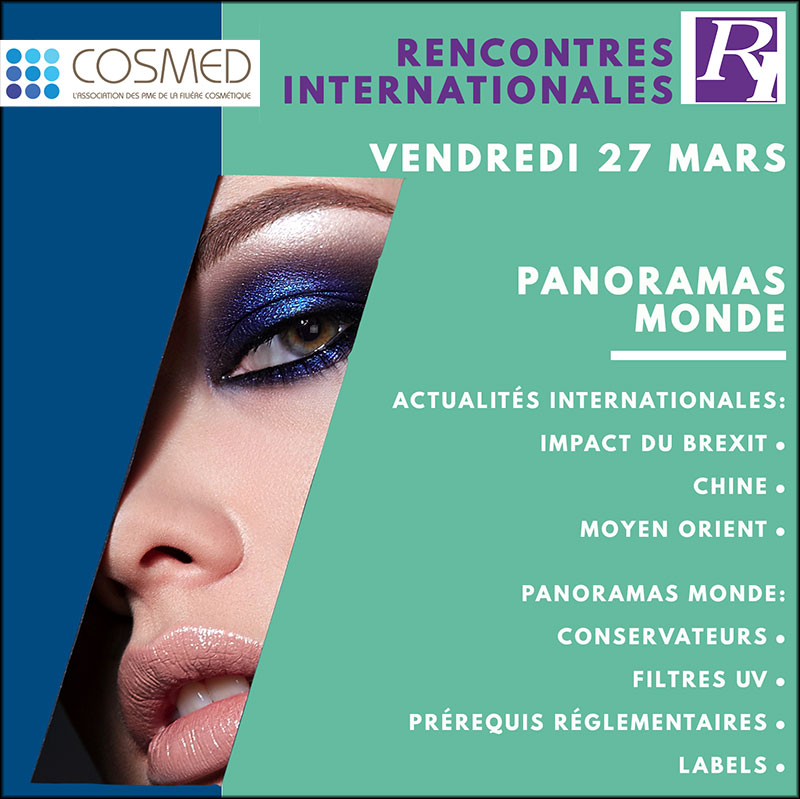 On the agenda of this annual day dedicated to international cosmetics regulations: the international impacts of the latest regulatory changes in Europe, the impact of Brexit on the cosmetics industry, the latest regulatory developments in China, the latest news on new protectionist provisions in the Middle East, the overview of preservatives, UV-Filters, regulatory prerequisites ((tests, heavy metals, impurities, etc.) and labels (organic & natural, cruelty free, vegan, fair trade, religious labels…) around the world…
Initially scheduled for Friday 27 March 2020 in Paris, this event has been postponed to October 2 due to the protective measures implemented to limit the epidemic due to the coronavirus.
• A3P Cosmétique, October 20, Lyon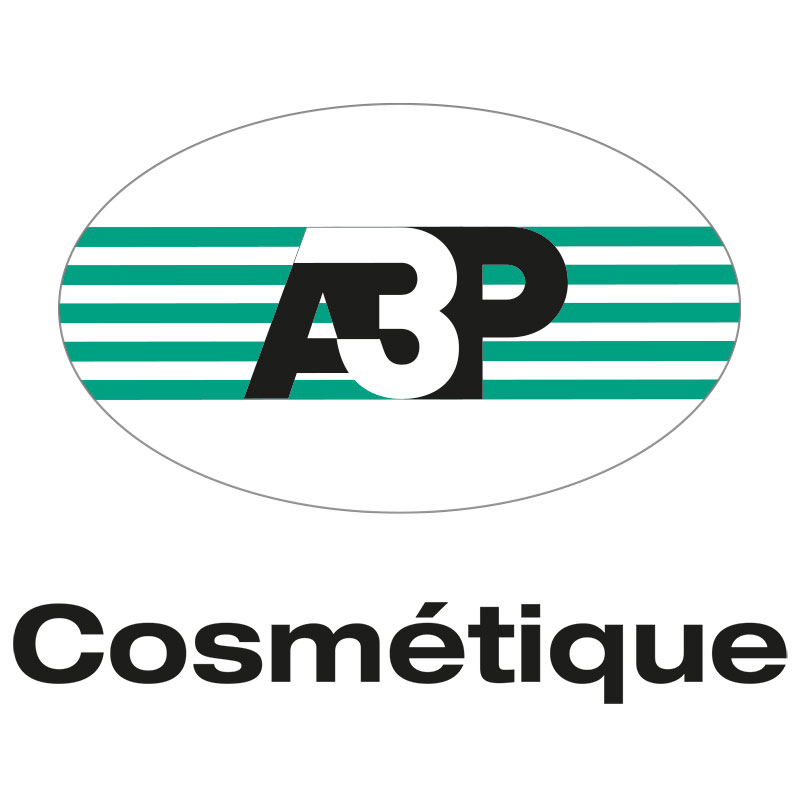 Since 1986, A3P Association (Association pour les Produits Propres et Parentéraux – Association for Clean and Parenteral Products) has contributed to the good development of the production of clean and sterile medicines and materials, through its network of suppliers and manufacturers. On October 20, 2020, it proposes an event dedicated to cosmetic products.
On the programme, the experience of mutualised auditings, hygiene operations and experiences of disinfection of production equipment…
• Sustainable Cosmetics Summit, November 2-5, virtual edition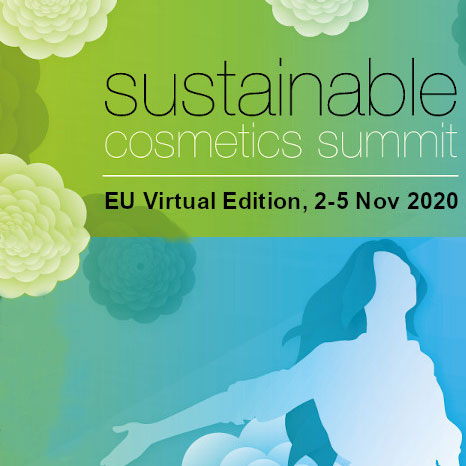 Covid-19 is having a major impact on the cosmetics industry. It has disrupted ingredient supply chains, production processes, as well as the distribution and retailing of finished products. This new European edition of the Sustainable Cosmetics Summit will cover the implications of the coronavirus crisis with a green lens. This new virtual edition will take place on 2-5th November.
This European edition will comprise four dedicated sessions and a training workshop.
• 7th Anti-Ageing Skin Care Conference, 4-5 November, London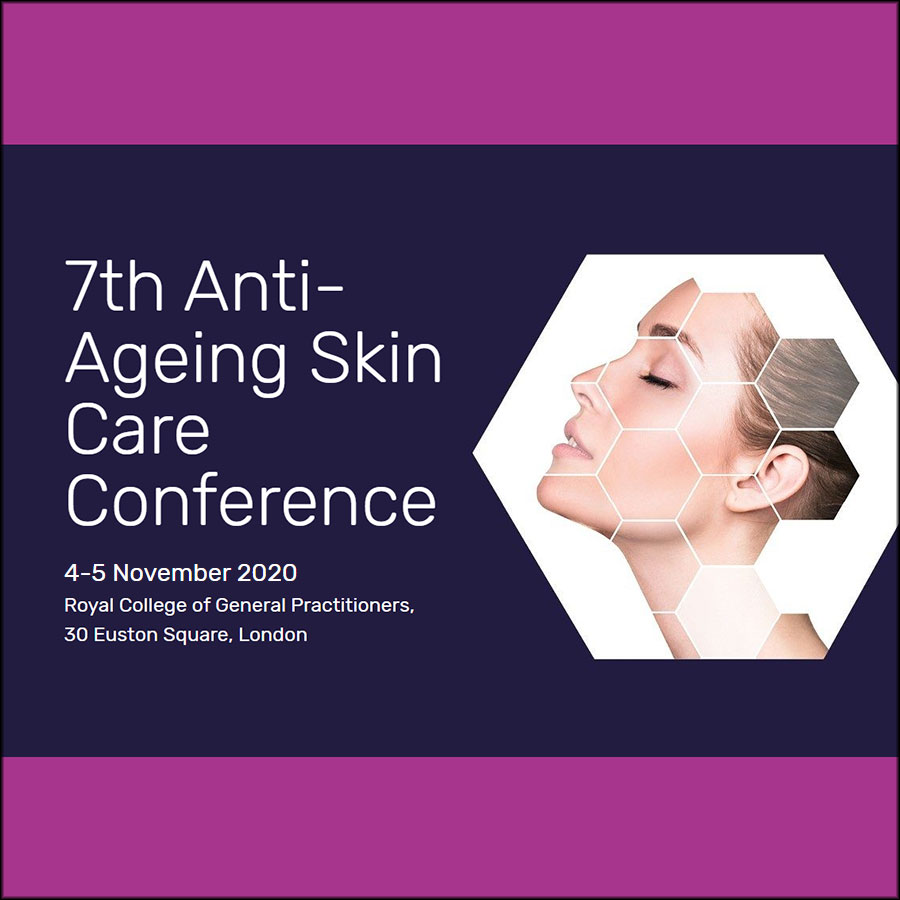 The 7th Anti-Ageing Skin Care Conference, organised by Summit Events, was to be held in London on 2-3 June 2020. In the context of the Covid-19 coronavirus crisis, it has been postponed to 4 and 5 November 2020. With the theme of this 7th edition: Outside In and Inside Out- an Holistic Approach to Anti-Ageing, this event will attempt to draw on related areas of anti-ageing and apply these to skin care approaches and treatments.
• Cosmoprof Fair, Spring 2021, Bologna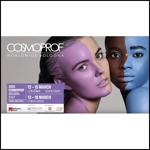 For the past fifty years, the beauty industry, on a worldwide scale, has been meeting at Cosmoprof. Considered one of the major events on the cosmetics industry calendar, it brings together perfume, make-up and hair brands as well as packaging manufacturers.
Cosmoprof 2020 will take place in Bologna, as usual, from 12 to 16 March 2020.
Initially scheduled in Bologna from March 12 to 16, 2020, the 2020 edition of Cosmoprof has finally been postponed to spring 2021. A digital event, WeCosmoprof, will be organized from June 4 to June 2020, to help restore the industry's business relationships.
• in-cosmetics, October 6-8, Barcelona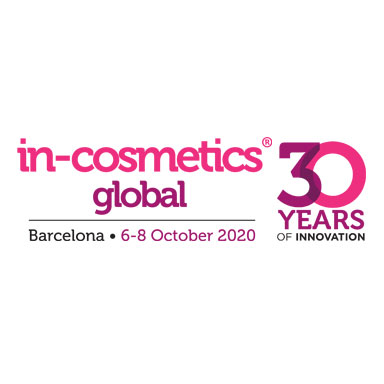 The next edition of in-cosmetics Global should take place in sunny Barcelona. The emphasis is put on firmly on interactivity, bringing the products and formulations to life through a series of areas, zones, labs and activities. All suppliers of cosmetic ingredients will be on hand to introduce visitors and buyers from all over the world to their latest innovations, but a little later than expected. The exhibition, which was scheduled to take place from March 31 to April 2, was postponed from June 30 to July 2 because of the coronavirus, then again from October 6 to 8, and finally rescheduled to April 2021.
The editorial staff will also be present at the following events
• UEBT Annual Conference - Initially scheduled for 18 and 19 May in Paris, it has been postponed to a later date.
at the following events**
• 3rd Aromadays Congress - Dedicated to essential oils, these two days of conferences organized by Cosmed, scheduled to take place on June 11th and 12th in Avignon, have been postponed to December 3rd and 4th.
IB
© 2020 CosmeticOBS