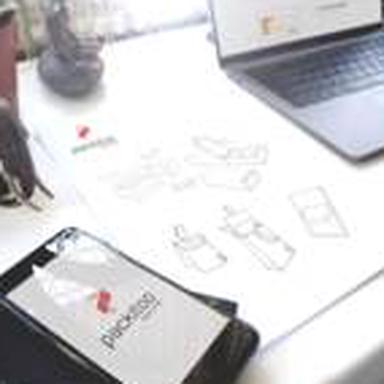 Brands know it better than anyone: it can be a long, hard battle to design packaging. Indeed, it is not always that simple to find the right service provider, because of the complexity of the packaging world. As all business segments initiated their own digital transition, players still lacked a specific service: something to quickly put cosmetics manufacturers in touch with packaging suppliers. Packitoo just did it.
Similarly to a dating application, Packitoo makes brands match with packaging designers according to their own criteria.
On paper, thinking about a digital tool offering this service is obvious in our era of massive uberization. And yet, it was not until 2017 that this project was developed to provide an efficient answer to the industry's professionals.
Project genesis
Who is behind Packitoo? Corinne Loustalet-Parra and Thomas Othax both come from the south-west of France.
Before becoming associates, the two founders had long worked together. She was the Director of Co&Co Pack, a packaging agency which designs and manufactures the packaging of Maison Francis Miot, where Thomas Othax worked as a Marketing Director.
They regularly had the opportunity to discuss the segment's issues.
They got the idea of developing Packitoo in 2016 during a trip to Taiwan: Corinne Loustalet-Parra visited Thomas Othax, who lived there for a year.
They exchanged about their respective activities and found out it was still really difficult for brands and packaging manufacturers to meet, talk, and 'find each other'.
Most of all, they realized that although we had entered the digital era, there was still no tool in the packaging sector to make packaging development and sourcing easier. There it was, they got the idea. It took them a few months to write the application concept.
The first, light version of the application was created in June 2017.
After several additional months needed for the development, the official version of Packitoo was released and showcased at the 2018 PCD show last January.
Of course, the name is no coincidence. But in addition to referring to the packaging world, Packitoo is also a nod in the direction of paquito, the traditional dance popular in south-western France feria , which consists in sitting in single file, putting your arms up along with the music, and then jumping on the guests' hands and letting go!
How does it actually work?
For brands
The user quickly describes their needs in a detailed form. Within five days, they receive quotes from the best global manufacturers that answered their tenders.
Once they have chosen their supplier, they get a checklist to efficiently supervise the production, which they can follow up in real time, just like the delivery. They can also evaluate manufacturers.
In the event of a dispute, Packitoo supports the brand.
For manufacturers
To be added to the interface directory, the service provider has to pay €100 to €250 for a monthly subscription. Then, they fill in their profile with their own data, products and services, as well as innovations.
When a brand's tender corresponding to their criteria is published, the manufacturer receives a notification by e-mail and can decide to answer it or not.
A chatbot system was integrated, so that customers and manufacturers can communicate and send each other documents on the platform.
Intended both for small businesses that cannot afford a dedicated purchasing service and major groups that may need to find a service provider for a flash operation, Packitoo represents a rather simple and intuitive sourcing solution.
As for pack manufacturers, they benefit from a marketing showcase and can broaden their spectrum of activity.
If Packitoo has only been operational for seven months, it already counts about fifty customers and has contributed to the development of 200 projects.
Who will join in the dance next?
© CosmeticOBS-L'Observatoire des Cosmétiques
© 2018- 2020 CosmeticOBS