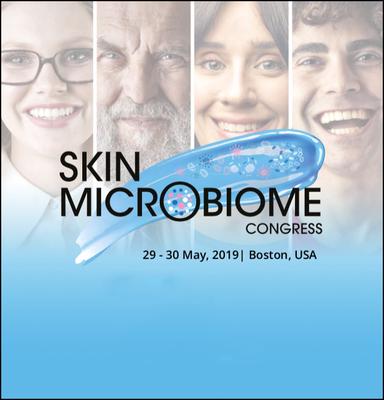 The skin microbiome is so trendy that congresses are entirely dedicated to it. While the 2018 edition was sold out, Kisaco Research is renewing Skin Microbiome in Boston, Massachusetts, from May 29 to 30, 2019. Two days of conferences based on the latest microbiome data, in order to give all the keys to cosmetics industry professionals to formulate products that meet the requirements of skin bacteria.
Microbiome is a cosmetic trend that is becoming a must.
Consumers are increasingly sensitive to the state of the bacteria present on their corpora and expect products that can address these issues.
 If developing cosmetics is not always easy, formulating treatments for the skin microbiota is even less so. Indeed, starting such a business requires a functional understanding of the microbiome, knowledge of the latest technical and scientific advances but also knowledge of all that this implies at the regulatory level.
 It is therefore with this in mind that Skin Microbiome was created.
The program
• The development and maintenance of the skin barrier
> Kimberly Capone, Research Fellow and Lead Microbiologist for Skin Microbiome Research, Johnson & Johnson Consumer Companies
• Academic-industry collaborations & 2019 updates
> Travis Whitfill, Co-founder and CSO, Azitra Inc.
• Why is my patent being rejected?
> Anthony Sabatelli, Patent Counsel, Wiggan and Dana
• Skin microbiome electric banking
> Eric Huang, Adjunct Professor, UCSD
• Preservative free, formulation, manufacturing and packing considerations
> Jennifer Cookson, Director of Research and Product Development, Mother Dirt
• Prebiotics, probiotics, postbiotics: delivery onto the skin
> Marie Drago, Founder, Gallinée
• Why human scalp hair follicles are microbiologically so "hot": an immunodermatological and chemosensory perspective
> Ralf Paus, Professor of Cutaneous Medicine, University of Miami Health System
• Unlocking the microbiome with bias-free, affordable, metagenomic sequencing and best in class cloud bioinformatics
> CosmosID
• Live lactobacilli to modulate the skin microbiome and reduce acne symptoms
> Ingmar Claes, Chief Scientific Officer, Yun Probiotherapy
• Identifying actives that have an effect on the microbiome
> Harald van der Hoeven, Director Technical Marketing, CLR Berlin
• Regulation of cosmetics in the United States
> Dr. Otgonchimeg (Oti) Rentsendorj, Staff Fellow, Cosmetics Division, Office of Cosmetics and Colors at United States Food and Drug Administration
• Dermal mast cell maturation and recruitment is modulated by skin microbiome
> Anna Di Nardo, Professor of Dermatology, UCSD
• Claim substantiation
> Kathleen Dunnigan, Senior Staff Attorney, National Advertising Division
• The renormalization of skin
> Greg Maguire, CEO, BioRegenerative Sciences, Inc.
• Panel: fake claims, real insights
> Jessica O'Connell, Partner, Covington & Burling LLP
• Skin microbe-environment interactions > Kasthuri Venkateswaran, SRS, JPL (NASA's Jet Propulsion Laboratory)
• Commercializing microbiome-based personal care products
> Jason Harcup, Global Vice President Personal Care Research and Global Vice President Prestige Division R&D, Unilever
• From jungle to city: effect of urbanization on the skin microbiome
> Chris Callewaert, Post-Doctoral Researcher, Ghent University
• Accelerating the rebalancing of disease microbiome through multi-strain live bacterial therapeutics
> Bernhard Paetzold, CSO, S Biomedic
• Routes to markets in the skin microbiome
> Larry Weiss, CEO and Founder, Persona Biome
> Marie Drago, Founder, Gallinée
> Travis Whitfill, Co-founder and CSO, Azitra Inc.
> Valerie Casagrande, Founder, BIOMILK Probiotic Skincare
> Tom Verlinden, CEO, Yun Probiotherapy
• Panel: educating the consumer
> Whitney Bowe, Dermatologist and Media Expert
> Marie Alice Dibon, Consultant,
> Alice Communications Inc.
> Jasmina Aganovic, President, Mother Dirt
• The axillary microbiome and the skin's innate immune defences
> Alexander Gordon James, Science Leader, Unilever
• The importance of external collaboration
> Tara Zedayko, Senior Marketing Manager, External Innovation Strategic Marketing, Johnson & Johnson Innovation, JLABS
• Mutations in the skin microbiome
> Tami Lieberman, Scientist, Massachusetts Institute of Technology (MIT)
• The impact of silver thread on the skin microbiome
> Alexey Melnik, Research Associate, UCSD
• Panel: a retailers perspective
> Heather Connelly, Buying & Merchandising, CosBar
• Designing an effective clinical trial
> Mark Wilson, Chief Executive Officer, MatriSys Bioscience, Inc.
• Microbiome & money - fundraising 101
> Nichola Eliovits, Chief Business Officer & Co-Founder, Dermbiont (invited)
• Wound healing and the microbiome
> Maya Ivanjesku, Chief Scientific Officer, Dakota Biotech
• A personalized approach to microbiome
> Elsa Jungman, Founder, ELSI Skin Health, Inc.
• The role of the skin microbiome in atopic dermatitis
> Teruaki Nakatsuji, Associate Project Scientist, UCSD

• Using evolutionary insights to understand how host genetics and daily habits shape skin microbiota; implications for health and disease
> Dr Julie Horvath, Head, Genomics & Microbiology Research Lab, North Carolina Central University
IB
© 2019- 2020 CosmeticOBS