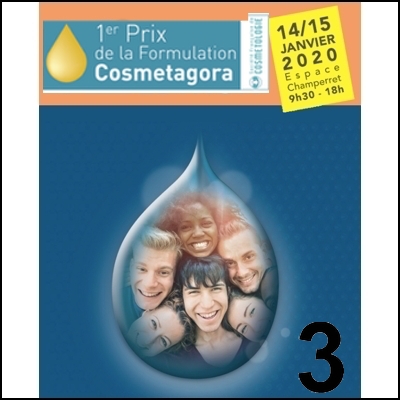 The first half of January always marks a period expected by ingredient suppliers. This is when the Cosmétagora trade show, dedicated to cosmetic raw materials, is held. For the 2020 edition which was held in Paris on January 14 and 15, nearly 150 exhibitors were present to present their new products.
Reading time : ~ 13 minutes
When you say Cosmétagora, you say Prix de la Formulation. For the past six years, the SFC has been organizing this competition to allow exhibitors to showcase their active ingredients in a finished cosmetic formulation.
This year the theme was dedicated to Millenials. All participants therefore presented a product aimed at this demanding target.
On the programme: "instagrammable" products, naturalness and eco-responsibility.
Here is the exhaustive list of participants, in alphabetical order (from C to D) and the presentations they made of their candidate formulas.
Cellmark
My formula that takes care of me and the planet.
At 20, life is a playground where everything is possible: having fun, getting involved, meeting people … but also impossible because: too young, not enough or too much education, no experience.
Keep your confidence in all circumstances in 2020 with the Deodorant "Stick Deo", an essential part of your toiletry kit, to explore the future with confiance and ease to live your 20 years 100% better, without compromising on solidarity and ecology.
Stick Deo, for her and him, is a deodorant at efficacité 48 hours that lets the skin breathe and with excellent skin tolerance.
Formulated with 100% natural, vegan ingredients from filières from solidarity sourcing, assembled in a solid, creamy texture and ...